Monday,
October
1st
2007
- 21:00 UTC
Multilateralism, only way to tackle global concerns says UN
Whether it is resolving conflicts, protecting human rights, achieving development goals or safeguarding the environment, the only viable way to effectively tackle today's complex global challenges is through multilateral cooperation, underlined United Nations Secretary-General Ban Ki-moon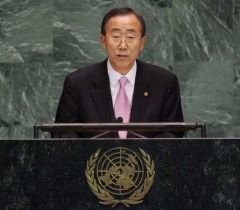 "To effectively tackle the full range of challenges coming our way, we need to all work together – Member States, the UN system, civil society, the private sector, and other stakeholders," Mr. Ban said in his address to the annual meeting of foreign ministers of the Non-Aligned Movement (NAM), which comprises 118 UN Member States. Ban Ki-moon called for strengthening partnerships to achieve the set of internationally agreed anti-poverty targets, known as the Millennium Development Goals and pursuing collective action to respond to emerging crises. "And we must strengthen the capacities of the United Nations to meet all the challenges before us," he added, stating his intention to continue the reform process with a proposal to significantly strengthen the Department of Political Affairs in order to boost the world body's capacity in the field of peace and security. "We must invest more in conflict prevention and mediation, so that disagreements both between and within States do not develop into violence and give rise to conflict," he stated. At the same time, Mr. Ban stressed that issues of economic and social development cannot take a backseat to issues of peace and security, noting "the two go hand in hand." "There can be no security without development, and vice versa. There can be no more important mission for the United Nations than reducing poverty and helping the people of the poorest nations share to a greater measure in the world's prosperity," he said. Stating that "the tides of globalization have left too many nations behind," he noted that the gap between the richest nations of the world and the poorest has grown far too large. "We have a moral duty to work toward a more equitable balance," he said. "As with climate change, so too with the problems of global poverty: we are all in this together." In confronting the complex challenges of the 21st century, the Secretary-General said he counted on the support and active participation of the Movement, which once sought primarily to counter the confrontations of the Cold War but today is "the voice of a new and more powerful South."