Former bishop leads in tight Paraguayan presidential bid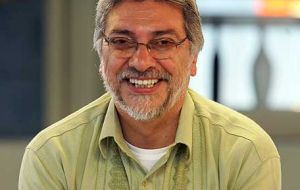 A former bishop is leading in what promises to be a very tight presidential election next April in Paraguay. The latest polls published this Sunday in the capital Asunción media shows ex bishop Fernando Lugo with 31.2% of vote intention followed by a former Army general Lino Oviedo with 25.3% and the outgoing administration candidate and ex Education minister Blanca Olevar with 24.3%

The public opinion poll was done last week by First Analisis y Estudios consultants involving 1.107 interviews in 12 of the country's 17 provinces. Businessman Pedro Fadul figures a distant fourth with 3.5% of vote intention and 11.1% remain undecided. The poll also shows that the former commander of the Army Oviedo has a greater acceptance (45%) among the poor sectors of the Paraguayan society, while Lugo and Ovelar have a stronger support in the middle and upper classes. In the previous poll from last September, General Oviedo was leading with 31.37% of vote intention, followed by Blanco Ovelar, 27.7% and Fernando Lugo, 27.1%. According to the latest electoral roll, Paraguay has six million voters registered to cast ballots next April 20. Outgoing President Nicanor Duarte belonging to the Colorado Party which has dominated Paraguayan politics uninterruptedly for the last six decades leaves office on August 15. The former bishop Lugo, suspended a year ago in divinis by the Vatican for involving himself in politics leads a conglomerate of parties and movements from left to right of the spectrum basically longing for a change in the ruling system and elite. Lino Oviedo, who was jailed several years for an attempted coup and has a strong backing among rural and indigenous areas because of his command of the Guarani language, has his own party Unace. Blanca Olevar is a trusted aide and advisor of president Duarte and the first woman presidential candidate in Paraguay.