Chavez attacks Spanish King and German Chancellor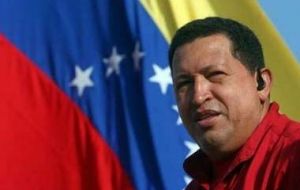 With just a few hours before the Lima, Peru, Latinamerican/Caribbean European Union leaders' summit Venezuelan president Hugo Chavez is picking up arguments with Spain's president and Germany's Chancellor.

Speaking from Madrid Spanish president Jose Luis Rodriguez Zapatero reiterated that Venezuela's leader Hugo Chavez must respect Spanish institutions. His statement followed Chavez latest criticisms of Spanish King Juan Carlos. "The relation with Venezuela and President Chavez is based on two principles: Chavez respects Spanish institutions, as the Spanish government respect Venezuela's. We believe a positive relation is convenient for both countries", said Rodriguez Zapatero. The King of Spain "believes he's superior" and "doesn't have a clue as to what is happening in Latinamerica", said Chavez on Sunday during his "Aló president" broadcast program, when he also recalled that during the last Ibero-American summit held in Chile the King told Chavez "why don't you shut up". During the same program last Sunday Chavez said that German Chancellor Angela Merkel belonged to the same "ultra right party that supported Hitler and fascism". The Venezuelan president apparently was furious because she was quoted saying that Mr. Chavez is not the only Latinamerican voice and "he certainly does not speak for Latinamerica". In the incident with the King in Chile, Chavez was poking fun of the former Spanish president Jose Maria Aznar whom he called "fascist" when his successor, Socialist Rodriguez Zapatero requested respect for Spanish institutions. If Hugo Chavez finally participates in the Lima summit next Friday, "most probably I will have a chat with him", added Rodriguez Zapatero. Ms Merkel's statements on president Chavez "alter the bilateral relation", insisted the Venezuelan Executive on Tuesday, from whom he requested "non interference" in Venezuelan affairs. "Her statements not only alter the bilateral relation but also question the German government's declared intention of intensifying the close links of friendship with all Latinamerican and Caribbean countries", said an official Venezuelan release. In a previous interview Ms Merkel had underlined that one country can't alter the relations between the EU and Latinamerica. She was obviously referring to Chavez' Venezuela. Merkel added that "President Chavez is not the voice of Latinamerica" and called on other regional countries to distance themselves from Venezuela. "Venezuela, not in the past or currently has been a perturbation factor in Latinamerica, Europe or the world and if Chancellor Merkel wishes to know, she's not the only voice in the EU and one country on its own will not alter the relations between Venezuela and the EU or bioregional relations", added the Venezuelan release. The release ends saying that the Venezuelan Executive is "surprised" by the fact the Chancellor "attacks Hugo Chavez" and makes "unfriendly comments" on the eve of the EU/Latinamerica summit on May 16/17 in Lima. Merkel will not only be present at the summit but is also scheduled to make state visits to Brazil, Colombia, Mexico and Peru. "For bilateral, bioregional and international relations to develop in a climate of friendliness, dialogue and understanding respect for the principles of equality and non interference must prevail", added the release. Last Sunday Chavez equaled Ms Merkel to Hitler and fascism adding that "Lady Chancellor, you can go to… But since you are a lady I'm not going to say anything further", said the Venezuelan president in his program The two leaders were scheduled to meet in Lima but Chavez on Sunday anticipated he still was not sure about his participation in the international meeting.