China's leading soft drink maker moves into juice market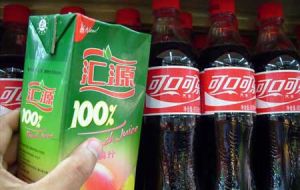 Coca Cola the world's largest beverage maker is to buy China's main fruit juice company for 2.4 billion US dollars, the biggest foreign acquisition of a Chinese company. The offer is three times the market value.

The deal for China's market leader in fresh juice will further cement the soft drink maker's position in the country where it already dominates the carbonated and diluted drinks markets. The Atlanta based company which was an official sponsor of the Beijing Olympics, sells more than a billion bottles of Coke in China. According to its Chinese website, Coke has invested 1.25 billion US dollars since first landing in China in 1979. Analysts expect the Chinese fruit juice market to grow by more than 10% in the next few years as the country's growing middle class become increasingly health-conscious. Coca Cola president and chief executive Muhtar Kent said: "Huiyuan is a long-established and successful juice brand in China and is highly complementary to the Coca-Cola China business. This is further evidence of our deep commitment to China and to providing Chinese consumers with the beverage choices that meet their needs". The three major shareholders, parent China Huiyuan Juice Holdings, which owns 38.5%, French Groupe Danone, 21% and Warburg Pincus private equity, 6.4% have all agreed to the share offer. Shares in the Chinese firm rose 165% on news of the deal. China has become Coca Cola's fourth largest sales market, rapidly expanding and with sales doubling its main competitor, Pepsico. State dominance of the corporate sector and strict red tape has made foreign moves into the country notoriously difficult. In July Chinese officials ruled out US private equity firm Carlyle Group's 375 million US dollars bid for a 85% stake in Xugong Group, China's largest construction machinery company. "The approval of the acquisition faces many difficulties," said Mei Xinyu, a researcher at the Chinese Academy of International Trade and Economic Cooperation. "There are two main difficulties. One is the large size of the two companies, which will raise concerns about monopolies. The second is that the brand of Huiyuan is considered to be protected as a famous domestic brand". Huiyuan which has about 46% share of the pure-juice market exports drinks to about 30 countries, including Japan and the US. Last year the Chinese market of pure juice increased 15% to two billion US dollars. Wall Street analysts have said that Coca Cola's lackluster performance in the US market has spurred its aggressive expansion overseas. The company posted a 9% drop in operating costs in North America in the second quarter on higher costs and in contrast in sales in China increased 13% in the same period, according to the interim financial report.