Valparaíso honors Chilean Navy new patrol "Piloto Pardo"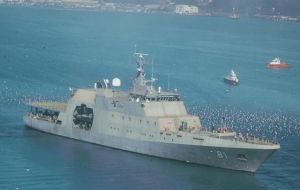 The Chilean Navy recently incorporated new maritime zone patrol "Piloto Pardo" was received with full honors when on Monday she sailed for the first time into Valparaiso.

The 1.728 tons vessel built in the Talcahuano Navy yard with German Fassmar technology was baptized last year and is the second "Piloto Pardo", a name closely linked to the Southern Seas and Antarctic activities having been involved in several renowned rescue operations. The original Dutch built "Piloto Pardo" served from 1959 to 1997, had a reinforced hull for Antarctic activities, basic weaponry and was adapted to carry two helicopters. The old vessel has now been refurbished and under the name of "Antarctic Dream" is involved in Antarctic cruising by a Chilean company. The new "Piloto Pardo" has greater autonomy, is faster, better equipped for sea patrolling and Antarctic activities, can cruise up to 22 knots and carries one helicopter. She's 80 meters long, has a crew of eight officers and 26 sailors and cost 30 million US dollars to build. Her duties are to patrol, protect and control Chilean maritime spaces, search and rescue operations plus combating sea contamination and logistic support to the country's isolated areas. Chile with a long coastal perimeter has a maritime zone estimated in 27 million square kilometers. A second twin patrol vessel, "Policarpio Toro" is currently under construction in the Talcahuano Asmar yards. Piloto Pardo was named in honor of marine pilot (later captain) Luis Pardo Villalón who in August 1916 together with a crew of 23 Chileans helped rescue from Antarctica the 22 survivors of the Ernest Shackleton expedition He was acting commander of the Chilean navy ship the Yelcho, a redoubtable small ship that was well familiar with performing duties in Antarctic waters. It was his experienced and masterly navigation that guaranteed the ship was able to navigate a channel through the pack ice and secure a safe approach to and hasty retreat from Elephant Island, with all the Shackleton men safely onboard. Pardo was further honoured, in that his name was given not only to the prominent ridge on Elephant Island that bears his name.