Argentina/Uruguay agree it's time to lift 3 year blockade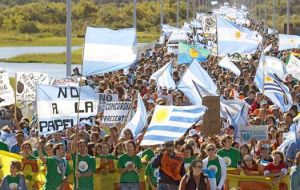 Argentine ambassador in Uruguay denied on Friday the existence of contradicting statements between the two neighboring countries regarding the end to pickets blocking bridges linking both countries which have interrupted trade and everyday traffic.

"We must rescue the positive aspects on the lookout for a sincere end to the conflict", said Argentine ambassador Hernan Patiño Mayer in reference to pickets which have cut links across the Fray Bentos Gualeguaychu bi-national bridge since December 2005. Last Thursday the Montevideo press published statements from Foreign Affairs minister Gonzalo Fernandez who, following a meeting in Washington with Argentina's president Cristina Fernandez de Kirchner allegedly said she was willing to begin a process leading to the lifting of the pickets blocking bridges. Pickets were established by Argentine residents to protest the construction of a pulp mill on the Uruguayan side of a shared river, which they argue would contaminate the air and water of the region threatening human health and ruining the tourism industry. But on the same Thursday afternoon the Argentine Foreign Affairs ministry released a communiqué contradicting the version of the Uruguayan official. The release said that "although the Argentine government has repeatedly expressed its disagreement with those measures which it considers counterproductive, the empowerment to decide the end of the blockaded corresponds to the courts". "Both statements, from Minister Fernandez and the Argentine ministry have similitude", insisted Patiño Mayer. The 1.2 billion US dollars pulp mill belongs to Finland's Botnia, was built with state of the art technology, and has been operational for several months exporting most of its production.