The dark side of Brazil's "brotherly" policy in the region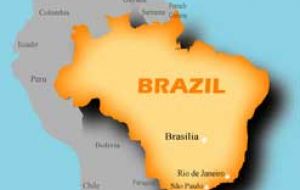 Brazil has sent a strong message to those (restless) neighbours that could "threaten the country", according to reports in the Sao Paulo press.
The comments follow the signing by President Lula da Silva of Decree 6.592, October 2nd, which defines "foreign aggression" as whoever threatens or commits "hostile prejudicial acts against Brazilian sovereignty, territorial integrity or the Brazilian people". But according to a long article published in O Estado de Sao Paulo, one of Brazil's most prestigious and influential dailies the decree is a message for neighbours that threaten Brazil, and in military terms, "a strong dissuasion for hostile acts" and clearly contrary to the country's "traditional pacifist diplomacy". More over the article points out that "the only wording missing in the aggressive decree is questioning the Itaipu Treaty", dating back to the seventies and which rules South America's largest hydroelectric dam, shared with Paraguay. In effect small, landlocked Paraguay has two long controversial pending issues with big brother Brazil: receipts from Itaipu which generates almost a quarter of Brazil's electricity, and farm land, the best of which belongs to Brazilian farmers. The recently elected government of Paraguay which ended six decades of a one party hegemonic rule, submissive to Brazil's wishes, promised its electorate to negotiate a better deal for 90% of the Itaipu electricity absorbed by Brazil, and land distribution among the peasant and indigenous population. The land targeted is along the border area, which belongs mostly to Brazilian farmers. However the article points out that the farmland dispute is questionable and Brazil should not confound Paraguayan government policy, respectful of private property, and organizations of landless peasants that, as in Brazil, have a policy of occupying farms to force situations. Said this "the main objective of the Decree 6.592 can only be seen as Itaipu and electricity generated for which Brazil pays Paraguay 100 million US dollars annually, at a rate of 2.67 US dollars a MW which is considered well below world average rates, concludes the article.