Long live the all mighty US dollar as reserve currency, says China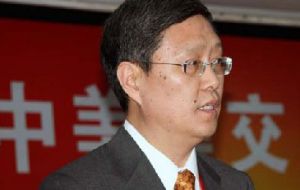 Chinese Deputy Foreign Minister He Yafei said on Sunday the US dollar would continue to be the world's leading reserve currency for years to come. The announcement comes before this week's summit of the Group of Eight in Italy.

"The US dollar is still the most important and major reserve currency of the day, and we believe that that situation will continue for many years to come" said He.

Beijing and the BRIC (Brazil, Russia, South Africa and China) group have floated the idea of an alternative to the dollar as global reserve currency and want the topic included at the summit starting in Italy on Wednesday.

Deputy Minister He said Chinese officials had voiced concern about the safety of the country's dollar-denominated assets. "That is natural," he said.

He said many other countries over the years had been calling for the stability of the US dollar. "We appreciate the efforts made by the US government in that direction," he said, adding that it was the responsibility of the government issuing the reserve currency to maintain its stability.

Discussions about reserve currencies have intensified since the outbreak of the global financial crisis, which he said had revealed "many shortcomings in the international monetary system". However, he described this as an intellectual debate.

"You may have heard comments, opinions from academic circles about the idea of establishing a super sovereign currency. This is all, I believe, now a discussion among academics. It is not the position of the Chinese government."

Zhou Xiaochuan, head of the Chinese central bank, launched the reserve currency debate last March when he said the SDR, the International Monetary Fund's unit of account, might one day displace the dollar.

Some diplomats and bankers suggest Zhou's primary aim was to highlight attention on concern expressed by Premier Wen Jiabao about the safety of China's huge dollar holdings -- at risk if US policy turns to greater tolerance of inflation.

Bankers estimate China holds perhaps 70% of its 1.95 trillion US dollars in official currency reserves in the US dollar.

Last month IMF First Deputy Managing Director John Lipsky admitted it was possible to take the "revolutionary" step of making SDR a reserve currency over time.

SDRs were created by the IMF in 1969 to support the Bretton Woods exchange-rate system that collapsed in 1971. They are disbursed in proportion to the money each member nation pays into the fund.

But the value of the SDR is based on a basket of currencies: 44% for the US dollar; 34% for the Euro and 11% each for the Japanese Yen and the British pound, and it does not include the Yuan.

China which is now among the world's short list of largest economies and main exporters is demanding the Yuan be included. This could happen in the coming months as part of a greater global financial understanding.