Monday,
August
3rd
2009
- 13:05 UTC
Lloyd's recovers most of gold from trawler sunk in South Atlantic
Most of the 9.5 tons of gold and silver (valued in 20 million US dollars) that went down in the South Atlantic off the Argentine coast on board a converted Chilean trawler have been recovered by a rescue mission contracted by the insurers of the cargo, reports the Argentine press.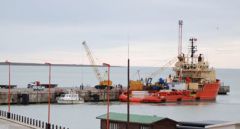 The recovery of the precious cargo from the hold of the sunken transport "Polar Mist" which last January was travelling from Rio Gallegos to Punta Arenas in Chile was confirmed by the mining company Cerro Vanguardia, belonging to South Africa's Anglo Gold and with a small percentage of stock in the hands of the province of Santa Cruz, under the name Formicruz.
Cerro Vanguardia's CEO Jorge Palmes said that most of the gold and silver had been saved with the exception of seven ingots which remained in the sea bed.
"I was told they fell off one of the baskets used to haul the metal and are lost", said Palmes who travelled to the scene of the rescue on board the main vessel involved in the operation, "C-Sailor" which is specifically equipped for this kind of tasks.
Of the seven ingots lost, equivalent to 2% of the total cargo, one belonged to Cerro Vanguardia and the rest to Triton, a subsidiary from Canada's Pan American Silver that is also partner of Formicruz.
The rescue of the gold and silver at a depth of 81 metres was undertaken with special immersion equipment and apparently cost in the range of 4 million US dollars.
The rescue operation was contracted by Lloyd's which was the insurer of the 9.5 tons.
"Under contract the insurers had to deliver us the whole cargo or the equivalent in money, but I imagine we'll agree on a price for the ingots missing and they will pay us", said Palmes.
The trawler "Polar Mist" had been converted for the transport of metal and other freight, but went down last January 18th in the middle of a storm close to the east access of the Magellan Strait, in the extreme south of the South American continent.
The crew abandoned the vessel and two days later the Chilean tug "Beagle" found the "Polar Mist" adrift.
They were ordered by the Argentine Coast Guard to head for Rio Gallegos, however that night the vessel begun to sink and "Beagle" cut her loose.
An investigation into the whole accident was started at Rio Gallegos.
The gold was shipped from Santa Cruz province to Punta Arenas and then by air to Santiago de Chile and forwarded to Switzerland for refining.