US forces in Colombian bases controversy overshadows regional military summit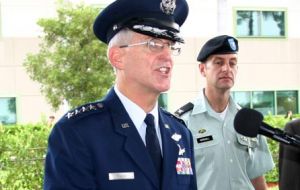 United States General Douglas Fraser, in charge of US Southern Command operations covering South America said that there are good reasons for the deployment of US military units in Colombia bases, but also stressed that no final deal had yet been struck.

During the meeting this week of South American and US armies' top officials in Cartagena, Colombia to address "Future challenges and missions for South America's armed forces" in the framework of the South American Security Conference, Colombian acting Defence minister General Freddy Padilla revealed that under the deal the US would be given access to seven military facilities from the three forces.

"The purpose of the Cartagena meeting is to establish closer confidence links, cooperation and friendship between armed forces and the commanders of the military in South America and the US Southern Command operations", said General Padilla.

The participants include the commanders of armies from Argentina, Brazil, Chile, Colombia, Mexico, Paraguay, Peru, Uruguay and the US.

The issue of deploying US troops in Colombian bases has triggered reactions from most South American countries and not only those aligned behind Venezuelan president Hugo Chavez, such as Ecuador, Bolivia and Nicaragua.

Brazil's president Lula da Silva said last week he was "not happy" at even one base being handed over for US operations. Brazilian Foreign Affairs minister Celso Amorim said over the weekend that "what worries Brazil is a strong military presence whose aim and capability seems to go well beyond what might be needed inside Colombia".

Venezuelan President Hugo Chavez has said he feared the bases might be used for an invasion of his country by a "Yankee military force".

The matter "will have a good explanation and a satisfactory outcome" anticipated General Fraser in a brief encounter with the press. The deployment of US forces under Colombian instructions is geared to fight "narco-terrorism", based on a long standing relationship with Colombia going back forty years, he added.

The US was forced to abandon a similar arrangement at an Ecuadorian Air Force base when President Rafael Correa denied a new extension to the agreement.

Colombian President Alvaro Uribe, Washington's principal ally in South America, on Tuesday left for a tour to include Peru, Chile, Brazil, Paraguay, Argentina and Uruguay where he would reassure regional governments about the bases.

Originally the plan was for US forces to be deployed in seven Colombian bases from the three different services.