Mining and construction backbone of Chile's economic recovery
Saturday, November 7th 2009 - 16:16 UTC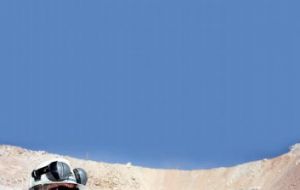 Mining and construction industries have led Chile's economic recovery, according to a recently released economic report.
During the most recent quarter the private sector has reinstituted 2.7 billion USD worth of previously postponed projects, 58% related to investments in the mining sector and 30% in the construction sector, according to a Capital Goods Corporation (CBC) report.
This is the second consecutive investment rise, following a 3 billion USD reactivation investment during the second quarter of 2009.
CBC attributes the renewed investment to a positive perspective about the future of the economy in 2010. During the third quarter this year, mining investment totalled 1.59 billion USD.
One of the five mining industry projects started in the last quarter was a Sulfolix project, worth 600 million USD. The project will extend the working life of a mining site in Sierra Gorda (Region II).
Construction trailed with total investments for the third quarter of 801 million USD. During the first quarter of 2009, 68 of 608 initiatives, worth 20.67 billion USD, were postponed due to the economic crisis.
But gradually during the past two quarters, the number of postponed projects has dropped and investment has increased.
In the second quarter the value of postponed projects fell to 19 billion and during the third quarter the value of postponed projects dropped to 16.813 billion.
By Allison D. Morris - Santiago Times