Venezuelan government takes over four private banks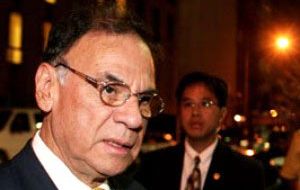 The Venezuelan government has taken over four private banks in the country for what it described as their incompliance with regulations.

Venezuelan Finance Minister Ali Rodriguez said on Friday that the banks, including Banco Canarias, Bolivar, BanPro and Banco Confederada, were seized by the government after it detected irregularities in their activities.

Among the problems, Rodriguez said, were unspecified capital increases. He invoked regulations that obligate the banks to confirm the sources of their funds.

"There are international rules that must be complied with by all banks in the world, and the authorities should make sure they are strictly complied with," he said, according to the Business week.

"These measures are intended to ensure the fundamental rights of bank depositors and creditors... We are confident that we are assuring the health of the Venezuelan banking system."

Rodriguez said the banks will continue operating as usual while the government measures are in place. The four banks account for 5.7% of the Venezuelan banking sector.

The government action has not affected the Venezuelan financial system as it is operating as usual, said banker Victor Gil, head of the National Banking Council.

"Bank interventions are contemplated under Venezuela law and are basically preventive because they enable to protect and guarantee savings from depositors", added Gil.

He said the four institutions will continue to operate as usual in all the branches.

"No bank client or depositor should feel afraid: these measures are targeted to ensure people can trust the system".