Chile Telethon Raises US$58 Million For Disaster Victims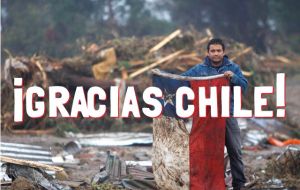 Around 10,000 volunteers in 400 locations across Chile united to raise funds for the earthquake stricken country over the weekend.
Colombian singer Juanes attended, while Spanish singer Miguel Bose sent a message of solidarity by YouTube. And singer Shakira sent a telephone message to the Chileans.
President Michelle Bachelet said Friday that 35 nations responded to specific requests for relief, including bottled water from Bolivia, tents from China, seismic equipment from France, water cleansers from Russia, satellite phones from U.S and pontoons from Sweden.
India's Prime Minister expressed condolences and offered a cash contribution US$5 million for relief. The Spanish Red Cross sent a plane with 25 tons of materials. China sent a Boeing 747-400 to Santiago carrying 90 tons of aid; 10,000 blankets, 700 tents, 100 generators and two water purification plants. Canada offered $2 million.
German Foreign Minister Guido Westerwelle included a last minute stop in Chile as part of his Latin America tour. German ambassador in Chile, Michael Glotzbach, said it was important at this time to show solidarity of the German government and German people with the Chilean government and its President-elect.
Secretary General of the UN, Ban Ki Moon, pledged US$10 million in immediate help from the UN. The Chilean government asked the UN for field hospitals with surgical facilities, dialysis centers, generators, saltwater purifying systems, mobile bridges and field kitchens.
The US$58 million raised in the telethon is enough to build 60,000 basic homes. But infrastructure damages are enormous, with the cost of rebuilding bridges in the Biobio region estimated at near US$600 million over at least a five year period. The Ministry of Public Works plans to build four bridges over the river Biobio, rebuilding the damaged infrastructure and connectivity in the area of Concepcion, but also improving on the original design.
State Railways (EFE) estimated damages of around US$50 million to railroad tracks and bridges. EFE general manager Franco Faccilongo said between Santiago and Chillan around 200 kilometers of railroad tracks were seriously damaged from the earthquake. Faccilongo said the most serious damage was found south of Curico, where sections of the railroad were "literally swallowed by the earth."
By Laura Burgoine _ Santiago Times