Greek Contagion Threatens South Europe and UK Banks Warns Rating Agency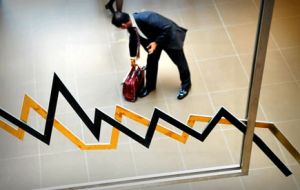 Banks in the United Kingdom and Europe risk their credit ratings being damaged because of "contagion" from Greece's debt crisis, a ratings agency has warned. Moody's said banking systems faced "very real, common threats" if doubts were raised about their governments' abilities to pay debts. It referred specifically to UK, Irish, Italian, Portuguese and Spanish banking systems.

Meanwhile, banking shares have fallen sharply on European markets. In France, Société Générale (EPA:GLE) was the biggest faller, losing 7% of its share price after admitting a 3 billion Euro exposure to Greek government debt. BNP Paribas (EPA:BNP) also said it had invested 5 billion Euros in Greece.

In Germany, Allianz (ETR:ALV) shares fell 6.5%, while Barclays (LON:BARC) was the biggest faller on the London's FTSE 100 Index with a 6.5% drop.

The Euro has also suffered as investors fear the spread of the Greek debt crisis to other economies—particularly Portugal. The single European currency fell to a 14-month low against the dollar on Thursday afternoon, trading at 1.2703. It was also trading at a nine-month low against the pound, with one pound buying 1.1746 euros.

At a European Central Bank (ECB) press conference Thursday, investors looked for signs of what action the bank planned to take to shore up the currency. Having announced that interest rates would remain at 1%, ECB President Jean-Claude Trichet said that restarting a program to buy up government debt had not been considered.

Earlier this week, the ECB changed its lending rules so that Greek debt would still be accepted as collateral for ECB loans even if other rating agencies followed the lead of Standard & Poor's in downgrading it to junk status. Trichet dismissed the prospect of Greece defaulting on its debt. He also said that Portugal was "not in the same boat" as Greece when it came to its financial position.

But Standard Chartered Bank's chief economist Sarah Hewin said contagion had already started to hit Portugal, with its borrowing rate rising significantly. Credit rating agency concerns about the UK revolve around the size of the UK's budget deficit. On Wednesday, the European Commission said that the UK's public finances were forecast to be in a worse state than any other major European country, including Greece, by the end of this year.

The report added that the UK government was expected to borrow the equivalent of 12% of GDP this year. However, the UK's debt levels are considerably lower than those of Greece—and analysts say there is no immediate prospect of the UK's triple-A credit rating being threatened.

Fears that Greece's debt crisis could spread to other countries intensified on Wednesday, when ratings agency Fitch said it was considering a downgrade of Portugal's government debt. At the same time, Moody's said it would be reviewing Portugal's bond rating, which could lead to a possible downgrade.

There are fears that Portugal, like Greece, may also have trouble repaying debt and may have to call on Eurozone loans. But on Thursday the Portuguese government said it planned to auction up to 1 billion Euros of bonds later this month.