US dollar breaks through the 4 pesos barrier in Buenos Aires informal market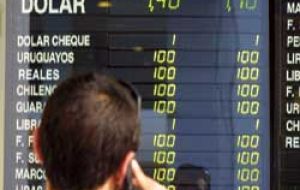 The new foreign currency controls that begun to be applied this week in Argentina had a marginal incidence in formal operations Tuesday, but in the parallel informal market the US dollar, under strong demand shot past the 4 Pesos milestone.

"The impact of the measures is marginal in daily operations because they are really targeted to control money laundering and to create barriers to enable to contain the flood of US dollars at its peak, when foreign sales of soybeans enter the foreign exchange market" according to Gabriel Martini an analyst from a local consultant quoted by La Nacion.

Apparently events in Europe had a greater impact on Buenos Aries exchange market expectations that the last package of rules, said local sources.

Another Buenos Aires market analyst said that the new Central bank measures "did not have consequences in the local market", but they will help the government to have more information on corporations. However they "are not going to change the functioning of the market". In any case controls generate more costs, "far beyond benefits".

The US dollar closed at 3.95 pesos to the public and at 3.93 Pesos for larger operations. But in the informal market which avoids all the identification requisites, the greenback closed at over 4 Pesos.

Martini said that each time the word 'control' emerges, "the US dollar soars in the informal market because stocks are created in anticipation of a greater demand. However once the real costs of the implementation of the new measures is quantified, it tends to converge towards the formal market"

The new rules effective this week limit US dollars or equivalent, cash sales to 20.000 USD and for sales of over 250.000 USD, evidence of assets and/or earnings must be provided to support such an operation. The rules are also targeted to discourage circulation of 50 and 100 US dollars bills.

Buenos Aires money market sources said that the Argentine Central bank was forced to intervene selling 60 million USD. This is slightly less that the 80 million USD the bank had been disbursing the previous week in anticipation of the new rules.