Argentine industrial activity soared 13.1% in May and 11.8% in first four months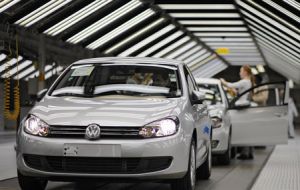 According to the Argentine Industrial Union, the manufacturing sector grew 13.1% in April in comparison with the same month of 2009, with the automotive and the iron and steel industries as key pillars.

With this result, for the first time after the impact of the international crisis, and after six months of recovery, the comparison with the same month of 2008 shows similar levels of activities, with a slight gain of 1.4%.

The automotive sector operated 53.3% more than the same month of 2009, while the production of basic metals registered an inter-annual expansion of 46%, and in total, both sectors contributed 8.7% to the expansion, which is equivalent to 66.9% of the total industrial growth.

Regarding March, the industry also grew, this time 1.1%, a value slightly inferior to the average of the last six months, which registered at a 1.5% increase. With this data, the first four months of the year closed with an inter-annual growth of 11.8%.

The report is elaborated by the Argentine Industrial Union's Study Centre on the basis of data from business chambers and organisms of the public and private sectors.

If the activity is compared, however, with the period between July and October of last year, the industrial sector is still 0.6% down. In this way, only in the second half of 2010 the industrial sector would consolidate its recovery.

The remaining industrial areas verified, on average, an inter-annual variation of 5.2%, in line with the evolution in March. This result was boosted, in the first place, by the dynamism of the metalworking industry, which evidenced a growth of 39%, accelerating itself in relation to the year's average.

Advances in textile, non-mineral metals, paper, and cardboard products were also highlighted.

The rest of the areas also showed improvement, with the exception of the foods and beverages industry, down 1.1%, oil refining, down 3.7%, and the substance and chemical products industry, down 8.7%, which experienced a setback due to technical stops at the Bahía Blanca petrochemical post.

In related news the National Statistics Office informed that the consumer prices index (IPC) registered a 0.7% increase in May, boosted by the rise in the textile, household equipment, and education sectors. Indec also said that wholesale prices grew 1% in May, while the cost of construction rose 3.8%.

Indec data is highly contested because of claims it has been recurrently manipulated by the Kirchner couple government to fit its objectives. While annual consumer inflation officially stands at below two digits, private economic analysis tanks say it is closer to 18% to 25%. A figure which seems to be confirmed by some provincial statistics offices, the unions which are demanding new labour contracts with a floor increase of 25% and soaring tax revenue, mostly based on VAT.