Catholic Church expects more gestures from Raul Castro on political prisoners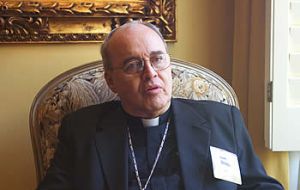 Cuban Catholic church said this week that it expects the government of Raul Castro to make more gestures favouring political prisoners, although it added that in that "process" no fixed dates have been set for particular actions.

"We expect that what was begun will continue ... There is nothing to indicate that the process has stagnated or has ended," said Orlando Marquez, the director of the Catholic magazine Palabra Nueva, in a meeting with reporters in Havana.

Marquez also said that the moves by the Cuban government to alleviate the situation of political prisoners and their families "will be welcome at any time" they may occur.

The Raul Castro government and the Cuban Catholic hierarchy have opened a process of dialogue that includes the situation of the political prisoners on the island, among other matters.

The church's role was confirmed at a meeting held on May 19 between President Castro and Cardinal Archbishop Jaime Ortega of Havana, who were joined by the chairman of the Cuban bishops' conference, Monsignor Dionisio Garcia.

As a result of those talks, which nourished the expectations of some dissidents about possible releases of certain political prisoners, the government decided to transfer at the beginning of June six political prisoners to prisons located in their home provinces.

To date, that has been the only step taken by Cuban authorities with regard to the political prisoners – who number about 200, according to the internal dissident movement – after Raul Castro's meeting with the Catholic prelates.

The statements by Marquez came in a meeting with journalists to inform them about the celebration of the Cuban Catholic church's 10th Social Week, which begins next Wednesday.

The Vatican's foreign minister, Archbishop Dominique Mamberti, will inaugurate the event in Havana with a speech at San Geronimo University. In addition to his participation at the Social Week, a meeting is scheduled between Mamberti and Cuban Foreign Minister Bruno Rodriguez.