Finland is the first Euro-zone economy to re-enter recession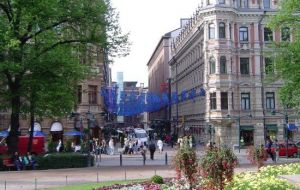 Finland's economy slipped back into recession during the first three months of 2010, official figures have shown. During the January to March quarter, its economy contracted by a seasonally-adjusted 0.4%, after a decline of 0.2% in October to December of last year.
It is the first Euro-zone country to re-enter recession after emerging from it, in what is known as a double-dip. Finland, whose main exports include paper and Nokia mobile phones, was hit hard by the downturn in global trade.
Finland is a strong investor in Mercosur particularly in the pulp and paper industry.
Official figures released on Thursday, however showed that its exports have since recovered. The country's exports rose 7% from a year earlier to 4.4 billion Euros in April, the biggest growth since November 2008.
This resulted in Finland reporting a trade surplus of 355 million Euros, its first for six months.
A report last year by the World Economic Forum said Finland had the world's sixth most competitive economy.
Finland's economy had previously contracted for four quarters in a row, covering the period from April 2008 to June 2009. The economy then grew by 0.5% in the third quarter of 2009.
A country is generally considered to be in recession following two consecutive quarters of economic contraction.
Along with Luxembourg, Finland is the only Euro zone country to have stuck to EU fiscal rules requiring it to keep its government deficit below 3% of its GDP and its debt under 60% of GDP. Eurostat figures say its debt was 44% of its GDP in 2009. (BBC).-