Taiana announces in Shanghai Cristina's official visit to China next July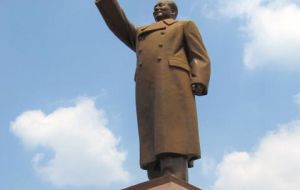 Argentine President Cristina Fernández de Kirchner is scheduled to make an official visit to China and meet with President Hu Jintao next July, announced Foreign Minister Jorge Taiana during his visit to the Argentine pavilion in the Shanghai World Expo.

"It's in the interest of both parties that President Fernández de Kirchner's visit becomes an important step towards the advance of bilateral relations" said Taiana, who added that the meeting between both heads of state is scheduled to take place on July 13th.

Last January the Argentine president unexpectedly and at last moment cancelled an official visit to China, alleging political differences with Vice-president Julio Cobos. She alleged at the time she could not leave government in the hands of "a person whose loyalty she did not trust".

The Kirchner couple and Vice-president Cobos definitively broke off relations two years ago when Cobos cast a decisive vote in a long standing dispute between the government and farmers regarding export taxes.

Beijing was disappointed with the attitude of Argentina's diplomacy and since then relations have cooled considerably particularly since the Kirchner administration is applying a mercantilist trade policy limiting access of many of its associates.

The trade restrictions policy has been significantly serious with Brazil and China. With Brazil there are recurrent meetings at ministerial and presidential level to address the issue, while China simply cancelled all imports of soybean oil, alleging non compliance by Argentina of certain residual indexes.

China represents almost 70% of Argentina's market for soybean oil and together with Brazil has become the main trade partners of the country.

No wonder Cristina is in a rush to visit Beijing and recover lost ground with the world's undisputed second economic and trade power.