Trying to cool the economy Brazil raises basic interest rate 75 point to 10.25%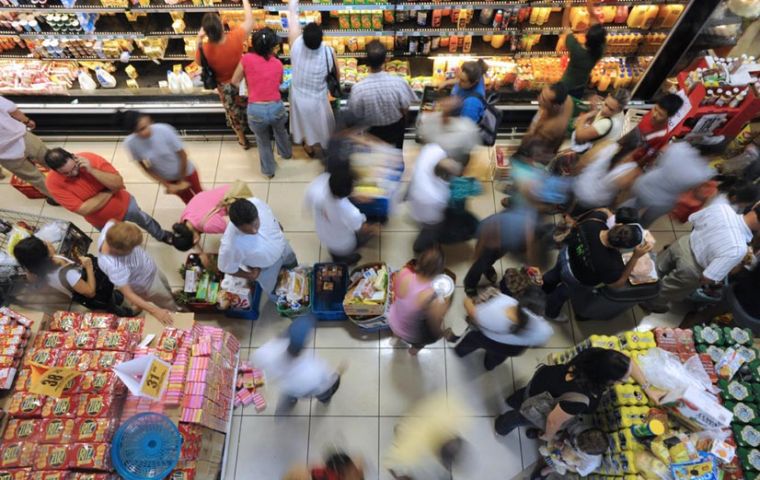 Brazil's central bank raised its benchmark Selic interest rate for a second straight meeting to contain inflation following strong signs the economy is overheating.

In a one-sentence statement accompanying its unanimous decision the bank said the second consecutive 0.75 percentage point increase would help "ensure the convergence of inflation to the target trajectory."

Policy makers increased the Selic rate to 10.25% from 9.5%. The Brazilian central bank after putting an end to nine months of record low interest rates in April is again trying to cool an economy that expanded at its fastest pace in 15 years in the first quarter (9%).

Propelled by domestic demand, faster growth has stoked inflation that exceeded the government's target of 4.5% every month this year.

Brazilian central bank policy makers said in minutes of their April meeting that the impact of the Euro sovereign debt crisis will be taken into account in future policy decisions.

Even as the European crisis may help contain inflation by slowing world growth and lowering commodity prices, Brazilian policy makers are working to slow domestic demand, said Jankiel Santos, chief economist at Banco Espirito Santo de Investimento.

While annual inflation, as measured by the benchmark IPCA index, slowed to 5.22% in May from 5.26% in April, the first deceleration in seven months, the rate remained above 4.5% for a fifth straight month, the national statistics agency said this week.

GDP expanded at 9% in the first quarter from the year-earlier period, the most since 1995, the government said June 8 in Rio de Janeiro. The economy is expected to grow 6.6% in 2010, the fastest pace since 1986, according to the median estimate in a central bank survey of about 100 economists published this week.

Economists expect policy makers to raise the Selic to 12% by January, the same survey showed. Brazil is the second-fastest growing economy among the so- called BRIC countries, behind China, which expanded 11.9% in the first quarter. India grew 8.6% and Russia expanded 2.9%.