US economy faces "strong headwinds" and fiscal challenge, says Obama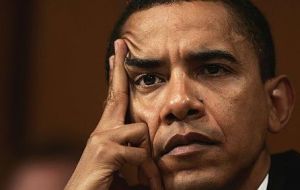 Obama administration warned the US economy had encountered "strong headwinds" and the country's fiscal challenge remained grave, but it lowered an estimate for the budget deficit this year.

"The economy is still struggling; too many US citizens are still out of work; and the nation's long-term fiscal trajectory is unsustainable" the White House said in the annual mid-session review of President Barack Obama's budget.

Recent polls show US citizens are anxious about the economy and could punish Obama's Democrats in November 2 midterm congressional elections for perceptions of big government spending and high unemployment after a severe US recession.

The White House trimmed an expected funding gap in the current fiscal year by 84 billion US dollars to 1.47 trillion USD, compared with the estimate released in February. This deficit was expected to decline in 2011 to 1.42 trillion, although this amount was 150 billion higher than initially forecast.

Growth was forecast at 3.2% for this year and 3.6% in 2011, and unemployment would decline slowly, staying above 6% until 2015. Job creation is a vital goal for Obama, and will loom large in the November poll, but unemployment has lagged growth and remains at a lofty 9.5%.

"The US economy still faces strong headwinds," the White House said, citing a weak housing market and doubts about the recovery in Europe, which could sap demand for exports.

"The European recovery is at risk because of increased uncertainty while government stimulus is withdrawn, and a further slowdown in Europe would pose problems for the rest of the world whose exports to Europe may be reduced," it said.

Britain and Germany have announced austerity plans to reassure investors, contrasting with the US preference of phasing in budget controls going forward.

European Central Bank President Jean-Claude Trichet, in a news article, urged countries using the common Euro currency to "implement a credible medium-term fiscal consolidation strategy."

Federal Reserve Chairman Ben Bernanke argued this week the economy still needed fiscal support and it did not make sense to try to rein in this year's deficit. But he stressed the country needs to curb the deficit over the next 2 to 3 years.

Obama signed a 862 billion USD emergency stimulus last year, which the White House says helped restore US growth. But his subsequent efforts to increase aid to cash-strapped states and small businesses have been thwarted in Congress, mainly by Republicans in the Senate objecting to more deficit spending.

US government debt held by the public is projected to rise above 70% of GDP in 2012 and reach 77% by 2020.

Critics warn adding to the deficit could sap investor faith in the administration's commitment to phase in budget controls, risking a sovereign debt crisis here that unnerved European markets earlier this year.

Long-term US interest rates have stayed low despite the grim US budget outlook, supporting the recovery by holding down borrowing costs on things like mortgages and auto loans. But that could quickly change if bond investors took fright.

President Obama vows to halve the deficit by 2013, a promise the larger Group of 20 rich and emerging nations also adopted at a meeting in Toronto last month, and the president has appointed a bipartisan commission to suggest how to tackle the fiscal challenge.

Obama's 18-strong panel is expected to recommend a mixture of spending cuts and tax increases when it reports findings by the end of December, well after the congressional vote.