Fitch upgrades Uruguay's debt to BB, just below investment grade
Tuesday, July 27th 2010 - 23:51 UTC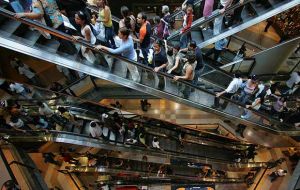 Citing the "increased resilience to external shocks" Fitch upgraded Uruguay to BB from BB-, two levels below investment-grade and in line with Standard & Poor's. Moody's Investors Service rates Uruguay at Ba3, three levels below investment grade. Fitch last increased the country's rating in July 2007, taking it up one level from B+.

"A strengthened macroeconomic policy framework, greater exchange rate flexibility, and a historically high level of international reserves" have increased Uruguay's resilience to external shocks, Fitch said in a statement. "A sustained reduction in the government's debt burden, improvements in government debt composition, as well as further strengthening of Uruguay's external solvency and liquidity indicators would be positive for creditworthiness," Fitch said.

Uruguay's government raised its forecast for this year's primary budget surplus to 500 million USD from 350 million, the country's Debt Management Unit said in an e-mailed report on July 23. The forecast for the 2011 surplus before interest payments was raised to 600 million from 450 million, the agency said.

In 2009, Uruguay's 2.9% economic growth outperformed that of Latin America and peers. Low government revenue volatility and economic resilience resulted in a comparatively smaller fiscal deterioration. This year the economy is forecasted to expand 5.5%.

Still, the country's general government debt burden, estimated to reach nearly 49% of gross domestic product this year, remains above that of the BB rating category. In addition, a bulk of the sovereign's debt is denominated in foreign currency, exposing debt dynamics to currency risk.

On the other hand, Uruguay's low external financing needs, the prospects of continued foreign direct investment inflows and increased confidence in the financial system partly mitigate those risks.

Uruguay last month reported its first-quarter GDP jumped 8.9% on sharp growth in electricity output, as well as in trade, entertainment, transport and communications.