Paraguayan president Fernando Lugo diagnosed with lymphoma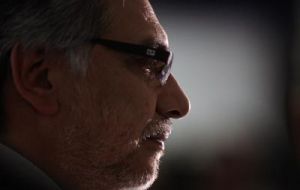 Paraguayan president Fernando Lugo, 59, has been diagnosed with a lymphoma following the biopsy of an inguinal ganglion extracted Wednesday. He will be travelling to Brazil next Tuesday to continue with lab tests and to decide future steps.

"The biopsy revealed the early stages of the cancer so there is a good chance the illness can be treated successfully" revealed on Friday Health minister Esperanza Martínez and the team of doctors involved in the minor surgery.

"The president will be travelling to the Sao Paulo Syrian-Lebanese hospital next Tuesday to continue with tests and to determine whether he will eventually be treated with chemotherapy", said Ms Martinez.

The minister added that President Lugo would be able to continue his official business as normal. Lugo, a former Catholic bishop took office two years ago as head of a catch-all left leaning coalition in one of South America's poorest countries.

Last January Lugo underwent endoscope surgery by urologist Cayo Estigarribia to treat a swollen prostate. He also performed Wednesday's ganglion extraction during a routine check up of the Paraguayan leader.

Dr. Alfredo Boccia said that the treatment will depend on lab tests but "the normal treatment of a lymphoma is with chemotherapy every three weeks and can last three or more months".