Chavez rejects newly nominated US ambassador: "he broke rules of diplomacy"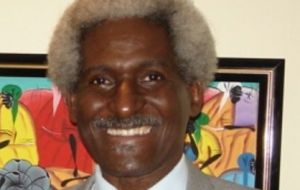 Newly nominated United States Ambassador Larry Palmer will not be allowed to take up his post in Caracas after criticizing Venezuela's government and policies, President Hugo Chávez said.

"How do you think, Obama that I am going to accept that gentleman as ambassador?" Chávez said on his weekly TV program, referring to President Barack Obama's proposed envoy to Venezuela. "It's impossible."

Palmer told a US senator recently that morale was low in Venezuela's military and there were "clear ties" between members of Chávez's government and Colombian drug-funded guerrillas.

His comments came at an awkward time after Colombia accused Venezuela of sheltering guerrillas on its soil. Chávez denies the accusations and broke diplomatic ties with Colombia over the issue.

"He himself ruled himself out, breaking all the rules of diplomacy, having a go at us, even the armed forces" Chávez said of Palmer. "Probably you will withdraw him, Obama. Don't insist, I'm asking you."

The US is Venezuela's top oil buyer, and Caracas is the fifth biggest US supplier after Canada, Saudi Arabia, Mexico and Nigeria.

Before Chávez's announcement, Venezuela's foreign ministry had demanded an explanation from Washington for what it called "meddling and interventionism". A State Department official said Palmer's comments were in line with government opinion.

In written replies to questions from Republican Senator Richard Lugar of Indiana, Palmer said he was "keenly aware of the clear ties" between members of the Chávez government and Colombian rebels.

"The Venezuelan government has been unwilling to prevent Colombian guerrillas from entering and establishing camps in Venezuelan territory," Palmer said. He also said it was "particularly concerning" that General Henry Rangel Silva had recently been promoted to operational chief of Venezuela's armed forces.

Silva is one of two Chavez officials and an ex-minister that the United States in 2008 put on its "kingpin" list, accusing them of materially assisting the drug trafficking activities of the Revolutionary Armed Forces of Colombia, known as FARC.

Palmer also said the professionalism of Venezuela's armed forces had declined because of the retirement of many officers, and due to a move by Chávez that allows non-commissioned officers transition directly to the commissioned corps.