Chilean trapped miners families file lawsuit against the state and mining company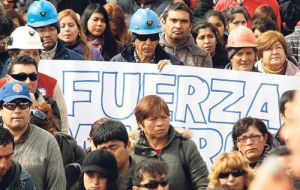 Families of 24 of the 33 Chilean trapped miners in the San José mine have filed a lawsuit against the state and the mining company, seeking compensation and justice.
The families' lawyer Edgardo Reinoso presented the case Monday to a court in the city of Caldera. "Luckily they are alive, but the harm that the situation has caused for them and their families is huge," said the attorney.
Caldera Mayor Brunilda González gave her complete support to the families' legal actions. She said a civil suit was also being filed against the state for failing to supervise the mine and for authorizing its reopening.
The Chilean geology and mining service, Sernageomin, revealed earlier this month that because of budget constraints there were only 16 safety auditors for more than 4,500 mines in Chile. In the Atacama Region (III), where the San José mine is located, there were only three auditors/inspectors for 884 mines.
On Aug. 11, President Sebastián Piñera called for the resignation of three top Sernageomin officials – National Director Alejandro Vio Grossi, Regional Director Rodolfo Díaz and a sub-director, Exequiel Yanes.
This week, Atacama regional District Attorney Hector Mella is expected to question the San José mine's owners, Alejandro Bohn and Marcelo Kemeny.
"Now is not the time to point fingers or ask for pardons," mine owner Bohn told national television channel, TVN, adding that critics have been unjust.
This squabbling occurs amidst government claims that the mine failed to comply with safety regulations. The mine, when it reopened in 2007, was expected to have a ventilation duct, which would also act as an escape route. But experts say the passage was too small and not legally safe as an escape route.
Bohn responded by saying his company's officials would try to clear doubts over the structure and maps of the mine, including the ventilation passage.

Mining Minister Laurence Golborne said that the government would not hold its punches with the owners and that the company would have to deal with whatever legal actions are taken.

By Radhika Sanghani - Santiago Times