India increasing trade and investment links with Peru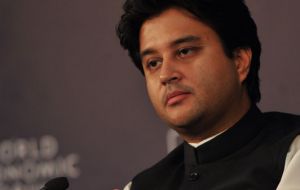 Following closely on the steps of China but with lesser exposure India is increasing trade, investment and business links with Latin America, the latest of which a Bussiness seminar in Lima, Peru.

"Since the turn of the century India and Latin American countries have steadily gravitated towards each other and that is evident by rising bilateral trade and investment flows" said India's Minister of State for Commerce and Industry Jyotiraditya Scindia during the inauguration of the India- Peru Seminar and Business Meet in Lima.

"India can benefit from exporting manufactured goods to Peru and India is also keen to invest in Peru as well as develop joint ventures for common projects" added Scindia.

The minister highlighted the success of the Indian economy, the current opportunities in India for Peruvian investors and the interest of Indian companies to work in Peru and with Peruvian companies in various fields.

Scindia is head of a business delegation in Peru to participate in several India-Latin America Conclaves and Business meets.

The Indian official also called on Peruvian Commerce and Tourism Minister, Martin Perez and discussed issues of mutual interest, including ways to increase bilateral trade and investment.

The Forum and Business Roundtable was jointly inaugurated by Scindia and Perez.

Both leaders called for enhancement of India-Peru economic engagement through a higher level of investment, capacity building and trade.

Given the synergies and potential complementation between the growing economies of Peru and India, "there is considerable scope for improving activities with the involvement of the private sector through such organizations as the CII of India and the Lima Chamber of Commerce of Peru", indicated the minister.

India's total trade with Peru increased from 63 million dollars in 2001-02 to more than 1 billion dollars in 2005-06. India exports a wide range of goods to Peru like drugs and pharmaceuticals, organic and inorganic chemicals, two-wheelers and three wheelers, automobile parts, rubber tyres, yarns, textile and readymade garments, electrical and other machinery, iron and steel products.

Peru ships to India mostly minerals, but has lately also included textiles, food, chemicals and fish products among others.

The Indian economy is considered the world's sixth largest market and the economy is forecasted to grow sustainedly during the coming years.