Tuesday,
September
14th
2010
- 10:59 UTC
Number of tour ships visiting South Georgia to fall for the second year running
The number of tour ships planning to visit South Georgia in the coming summer looks set to fall for the second year in a row, according to a report in the August edition of the South Georgia Newsletter.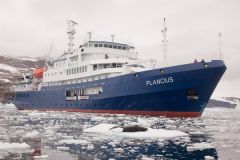 Just 52 ship visits are currently listed to visit the Island on the International Association of Antarctic Tour Operators (IAATO) scheduler. This is eleven less than last season, and 18 fewer less than the busiest summer of 2008/9.
The size of cruise ships visiting is also changing. Some of the ships that came regularly in the past will no longer operate in the region. Reasons for this include the economics of running smaller ships and a change in rules - banning cruise ships from carrying heavy fuel oils in Antarctic waters.
The result for South Georgia is that most of the ship visits will be from medium sized vessels (70-199 passenger), with just two small ships operating, the "Polar Pioneer" (54 passengers) and "Bark Europa" (37 passengers). There are currently 8 expected visits from larger vessels (200-500 passengers).
The total number of passenger spaces available on the booked vessels is approximately 6800, not all the available places will be sold, so the actual number of visitors may be nearer 5800 at usual occupancy rates, about 12% less than the number expected last season.
This two-season-long reduction in ship visits and passenger numbers was predicted. It follows the pattern of the last global recession (2001-2) when there was a similar 2-season dip, after which ship visits and tourist numbers continued the steady rise that has been the trend since cruise ship tourism started here in 1970.
The 2010/11 season is due to start on October 30th with a visit from tour ship "Plancius". The following month, November is scheduled to be the busiest of the season with 14 ships due. Two ships new to South Georgia are due to visit: the 200-passenger "Le Boreal" and 90-passenger "Marina Svetaeva".