After 15 years U.S. supporter of Peruvian terrorist group free on parole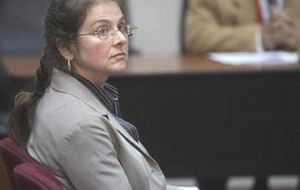 US citizen Lori Berenson who is serving a 20- year prison sentence in Peru for aiding Marxist rebels, was granted parole for a second time. Berenson is entitled to parole as she has served more than three quarters of her 20-year sentence for helping plan an attack on Peru's Congress, Judge Jessica Leon ruled.

Berenson has apologized for her actions and acknowledged that the violence carried out by the Tupac Amaru Revolutionary Movement had been "harmful" for Peru, the judge said in a televised ruling from the Santa Monica women's jail in Lima.

Berenson, 40, was granted parole in May, but Leon suspended the parole order in August, saying police had failed to inspect the apartment in Lima where Berenson would be staying. Berenson was returned to prison carrying Salvador, her 17-month-old son.

Berenson should remain in jail because she hasn't served three-quarters of her 20-year sentence, the government's terrorism prosecutor Julio Galindo said Nov. 3. Her lawyer Anibal Apari said she will leave prison within 24 hours.

"In spite of all the pressure, the judge has maintained her independence," said Apari in an interview with Lima-based Canal N. "One by one, she's categorically struck down the arguments coming from the prosecutor."

Berenson was sentenced to life in prison by a military court after her capture in 1995 for being a member of the Tupac Amaru Revolutionary Movement. The sentence was later nullified by the military Supreme Court and she was tried and sentenced by a civilian court to 20 years in jail. She denied the charges.

President Alan Garcia said last month he is considering Berenson's request for her sentence to be commuted so that she can return with her family to the U.S.

Berenson doesn't pose a threat to Peru, Garcia said last September in an interview with CNN. Berenson, a New York native and former Massachusetts Institute of Technology student, had requested that she be allowed to return to the U.S.