Monday,
December
20th
2010
- 18:36 UTC
Falklands' Rockhopper plans two new wells and is discussing a "Discovery Area"
The Falklands Rockhopper Exploration (AIM: RKH) exploration company ratified Monday its full commitment to oil exploration in the Islands waters on announcing an agreement to increase the number of drilling options, further 3D seismic surveying and discussions with the Falklands' government for the declaration of a Discovery Area where it stuck oil earlier this year.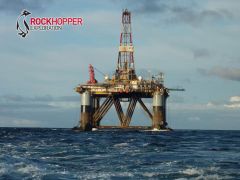 Rockhopper said it had entered into an agreement to take up two optional drilling slots (beginning January 2011) under the original rig contract between Desire Petroleum plc and Diamond Offshore Drilling, owners of the Ocean Guardian drilling rig. The company is also in discussions to take up further well slots on the Ocean Guardian.
"We are delighted to have secured the use of the Ocean Guardian for a further two wells and we are in discussions to secure further drilling slots. We expect to undertake a significant drilling programme during 2011, including a number of appraisal and exploration wells designed to refine our understanding of our northern licences" said Sam Moody, Chief Executive of Rockhopper.
Furthermore "Rockhopper is in discussions with the Falkland Islands Government regarding the declaration of a Discovery Area which is likely to encompass the southern lobe of the Sea Lion fan where the Sea Lion discovery well, 14/10-2 was drilled earlier during 2010", said the official release.
Outside the proposed Discovery Area, on the northern lobe of the Sea Lion fan system and eight kilometres from the Sea Lion discovery well, Rockhopper said that next January it will spud a new exploration well (14/10-3).
"The well will also target deeper sands, including S2, which the Company has mapped following the Sea Lion oil discovery earlier this year. S2 has a newly-identified reservoir feeder system and a total area currently mapped of 42 square kilometres" added the release pointing out that the well is located down-dip to the main part of the S2 fan and should "provide valuable reservoir information".
The S2 fan is mapped on the existing Rockhopper 3D seismic and sits entirely within 100% held Rockhopper acreage.
However the second well, 14/10-4, is currently planned as an appraisal well, within the proposed Sea Lion Discovery Area on the southern Lobe of the Sea Lion fan system, "the timing of which is subject to the order of drilling slots as yet to be determined".
Rockhopper says it has identified a number of other potential drilling locations which are a combination of appraisal and exploration wells.
Finally Rockhopper announced that the vessel MV Polarcus Nadia ("Nadia") has commenced operations on a new 3D seismic program to cover licence PL024 (100% Rockhopper) and adjacent areas, which were not previously defined by 3D seismic, as well as participating with Desire Petroleum plc on areas of licences PL003 and PL004, in which Rockhopper has a 7.5% interest. Nadia is expected to complete its survey by the end of April 2011.
Over the years Rockhopper, a company started in 2004 with a strategy to invest in and carry out an offshore oil exploration program to the north of the Falkland Islands has carried out an extensive work program in its licences. This has included 2D and 3D Seismic and Controlled Source Electromagnetic Mapping (CSEM).
In February 2010, the Ocean Guardian drilling rig arrived in Falklands' waters to carry out a multi-well drilling campaign. Rockhopper drilled an exploration well on its Sea Lion prospect during April and May 2010, the result of which was the first oil discovery and Contingent Oil Resource in the North Falkland Basin.
The Sea Lion discovery was successfully tested during September 2010 and was the first oil to flow to surface in Falkland Islands waters.