Bolivia back steps and offers new deal to attract foreign oil companies
Thursday, January 6th 2011 - 12:46 UTC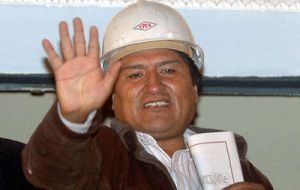 President Evo Morales' government has offered to reimburse 100% of the cost of successful exploratory drilling in Bolivia by private oil and natural gas companies, state-owned energy company YPFB announced this week.

Carlos Villegas, president of Yacimientos Petroliferos Fiscales Bolivianos said most of the companies that operate in Bolivia have accepted the proposal, which is especially aimed at triggering the search for liquid hydrocarbons.

"The private company will cover the cost of exploration if the results are negative, all the losses will be assumed by the company and YPFB will have no obligations. If the results are positive, YPFB pledges through a mixed corporation to return 100% of the investment made in the exploration phase," Villegas said.

The executive described the offer as an "important benefit" for companies and said other incentives could be offered to boost gas and oil production.

Another measure under consideration by YPFB is to increase the amount that companies currently receive per-barrel, currently just 10 US dollars even though international market prices now stand at almost 90 USD.

President Morales, who nationalized the hydrocarbons sector in 2006, also stressed the importance of ensuring that private companies not only recoup their investment but also post a profit – something not possible at the 10 USD-per-barrel rate.

The president's remarks contrast with earlier threats to take over the operations of companies that do not invest to bolster production.

Foreign energy firms in Bolivia include Spain's Repsol-YPF, which also partners with YPFB in a Bolivian state-controlled joint venture; Argentina's Pluspetrol; Brazil's Petrobras; French oil major Total; and British Gas.

The measures to attract private investment were launched a week after violent protests erupted December 26 when the Bolivian government eliminated fuel subsidies and sent prices for liquid fuels soaring. However Morales five days later rolled back the increases decree fearing threats of further social upheaval which in the past have overturned several elected governments.