Petrobras third largest oil company on market capitalization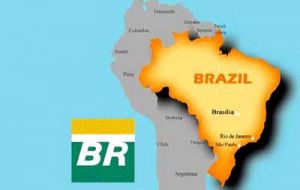 Based on market capitalization Brazilian government managed oil and gas company Petrobras ranked third worldwide according to the prestigious PFC Energy 50 list of the world's biggest energy companies.

Petrobras, with a market capitalization of 228.9 billion US dollars is by far South America's biggest energy company while the second biggest energy company in the region is Colombia's Ecopetrol with a market capitalization of 87 billion US dollars.

Worldwide, Petrobras is only behind ExxonMobil (368.7 billion) and PetroChina (303.3 billion). Petrobras is ahead of third ranked Royal Dutch Shell (207.9 billion); Chevron (183.6 billion) and Russian giant, Gazprom (149.4 billion) in fifth place.

In the first PFC Energy 50 ranking of 1999, Petrobras was in 27th place (with a market value of 13.5 billion).

In the report PFC Energy points out that in 2010 a decline of 23% in stock prices at Petrobras was compensated by a successful 67 billion capitalization campaign.

Petrobras domestic oil production of petroleum in December averaged 2.12 million bpd, up 6.8% compared to production a year earlier in December in 2009, and up 4.5%, compared to the previous month of November 2010. The December average was a daily record overtaking the 2.03 million bpd from April 2010.

Total hydrocarbons production (petroleum and natural gas) in Brazil in December averaged 2.49 million bpd, up 7.9%, from December 2009.