Hispanics become US second largest group with 50.5 million; up 43% since 2000
Monday, March 28th 2011 - 01:06 UTC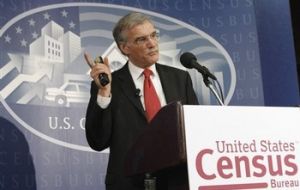 The growing Hispanic population in the United States has reached a new milestone, topping 50 million, or 16.3%, officially solidifying its position as the country's second-largest group, U.S. Census Bureau officials said this week.
"Overall, we've learned that our nation's population has become more racially and ethnically diverse over the past 10 years," said Nicholas A. Jones, chief of the bureau's racial statistics branch.
Several trends emerged from the 2010 census, according to Robert M. Groves, director of the Census Bureau, and Marc J. Perry, chief of the population distribution branch.
The US is growing at a smaller rate. Growth is concentrated in metropolitan areas and in the American West and South. The fastest-growing communities are suburbs such as Lincoln, California, outside Sacramento. And standard-bearer cities such as Boston, Baltimore and Milwaukee are no longer in the top 20 for population, replaced by upstarts such as El Paso, Texas, and Charlotte, North Carolina, the officials said.
The most significant trend, however, appeared to be the new count of 50.5 million Latinos, whose massive expansion accounted for more than half of the US overall growth of 27.3 million people, to a new overall US population of 308.7 million, officials said. The Hispanic population grew 43% since 2000, officials said.
In stark contrast, all other populations together grew by only about 5%, officials said, while the US as a whole expanded by 9.7%.
D'Vera Cohn, a senior writer at the Pew Research Center in Washington, said the birth rate, rather than immigration, is the primary driving factor in the Latino boom. Hispanics now account for nearly one-quarter of children under the age of 18.
"Hispanics are a younger population, and there are just more women of a child-bearing age," she said.
Although immigration remains a major contributor to Hispanic population growth, the recent recession and high employment rates may have prompted a tapering off in the rate of foreign-born nationals seeking U.S. residence, analysts said.
Intensified border patrols may have reduced illegal immigration, but those measures "remain at the margins," said William Frey, a demographer at The Brookings Institution.
He added that America's overall undocumented immigrant population -- estimated at between 10 million and 11 million people -- may have even declined in recent years, though accurate numbers are difficult to acquire.
The census data show that while the white population increased by 2.2 million to 196.8 million, its share of the total population dropped to 64% from 69%, officials said.
The Asian population also grew 43%, increasing from 10.2 million in 2000 to 14.7 million in 2010, officials said. Asians now account for about 5% of the nation's population.
The African-American population, which grew by about 4.3 million, is now about 40 million, or 12.6% of the population, a slight increase over 12.3% in 2000 officials said.