China anticipating higher inflation hikes interest rate by 25 basis points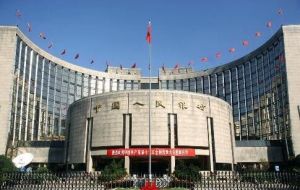 China's central bank announced Tuesday it would raise the benchmark one-year borrowing and lending interest rates by 25 basis points beginning Wednesday. This is the second time that The People's Bank of China raises the benchmark interest rate this year and the fourth such increase since the start of last year.

One year deposit interest rate will climb to 3.25% while that of the one-year loan interest rate will reach 6.31%. Analysts said the move indicated that the central bank was enhancing efforts to ease stubborn consumer price increases.

The consumer price index (CPI), a main gauge of China's inflation, jumped 4.9% in February from a year earlier, exceeding the government's full-year target of 4%.

Food prices, which account for about one-third in the basket of goods used to calculate China's CPI, surged by 11% in February from a year ago.

"It's widely expected that the reading of March's CPI will hit a new high. The interest rate rise is the central bank's advance response to the pressure of rising inflation," said Liu Yuhui, an economist with the Chinese Academy of Social Sciences, a government think tank.

Rising oil and commodity prices on the global markets will also push prices higher in China during the year, said Lu Zhengwei, chief economist with Industrial Bank.

Lu expected China's CPI growth to reach a new high of 5.2% in March, adding that there would be another two or three benchmark interest rate hikes during the rest of the year. The National Bureau of Statistics is scheduled to release the March economic data on April 15, including the CPI, industrial production and fixed asset investment.

The Chinese government has prioritized price stability in this year's government work report and stepped up efforts to bring inflation under control. To absorb the excessive liquidity that helps fuel inflation, the central bank has raised the reserve requirement ratio for commercial banks nine times since the beginning of last year.

Last week a report from China's top economic planner and published by China Securities Journal anticipated that China's consumer prices are expected to rise about 4.9% in the first half of this year, and inflation is expected to ease in the second half.

The report, issued by the price monitoring centre under the National Development and Reform Commission (NDRC), estimated that China's consumer price index (CPI), a main gauge of inflation, would rise about 5% from the previous year in March.