Argentina supports bill requiring companies to distribute 10% of profits to workers
Tuesday, May 3rd 2011 - 08:20 UTC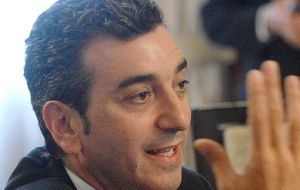 A day before Tuesday's round of talks between Argentina's organized labour (CGT) and the Industrial Union (UIA) to consider the possibility of a 'social pact' to help contain prices (inflation), the government expressed support for a law sponsored by unions that requires companies to distribute 10% of profits to workers.

Interior Minister Florencio Randazzo said in a radio interview that he thought discussing the bill "was the right move," and stressed that the matter should be debated in Congress. On Tuesday President Cristina Fernández de Kirchner is expected to meet with UIA and the CGT umbrella union representatives in order to re-launch the tripartite social accord.

"I think it's the right move to discuss this matter since Argentina is going through a period of strong economic growth," he remarked.

"The problems Argentina is facing now are different from the ones we faced in the past. The economy is in full development, it's growing, so this matter has to be discussed rationally between the corporate world, workers and the government," Randazzo explained.

Earlier, UIA head José Ignacio de Mendiguren assured that the profit-redistribution bill "is a broad matter, and must be carefully discussed."

"The CGT bill looks to legislate over the Constitution's 14A article that rules over profit distribution. We've said several times that we shouldn't be taking this article lightly since it also sets the grounds for union freedom and the right to information," he said.

He also said he wished that Hugo Moyano, head of the organized labour movement, CGT weren't in a position that allows him to wield so much power, although he warned that he is not afraid of him.

"I would like the person you're supposed to be negotiating with were not in a position of so much power," the UIA head said. "He's one of the union leaders with the largest amount of power in these last few years. The CGT was never run by someone from a strong union," he said.

"He is a strong leader and, like he always says, he's in it for the win. He's not easy to negotiate with," De Mendiguren said.

"Moyano is very tough when it comes to negotiations, but, since I've known him for quite some time now, I'm sure he's also aware that the country needs a plan for development. And in that plan, it is key that both income redistribution and investment are compatible," he added.

The UIA and CGT representatives are scheduled to meet with President Cristina Fernández de Kirchner Tuesday.