Uruguayan inflation eases in April but still is almost double the annual target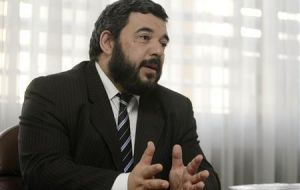 Uruguay's April consumer inflation, 0.34%, the lowest since last November came as a relief for government authorities, but the accumulated rate of the last twelve months was 8.34%, well above the Central bank 4% to 6% target. Furthermore compared to April 2010 inflation was almost double: 0.18% vs 0.34%, according to the country's Statistics Institute, INE.

Almost all items of the consumer index increased in April with Restaurants and Hotels leading with 1.48%; Housing 0.62% and Clothing and foot wear 1.25%. On the other hand Food and Beverage was down 0.07%. Government regulates prices such as fuel, public utility rates and public transport helped to contain April's index. Inflation in the four months of the year has reached 4%.

But the Uruguayan government remains unsatisfied with the numbers and Central bank president Mario Bergara anticipated last week that in short time "we will be making a decision regarding private banks technical reserves. Uruguay has the lowest technical reserves in Latin America".

The measure should help contain bank credit and overall demand, thus lowering inflation.

Currently bank reserves requirements stand at 12% for Uruguayan pesos and 15% for US dollars; four years ago when a similar bout of inflation they went as high as 25% and 35%.

Vice President and former Economy minister Danilo Astori anticipated an 'austere' budget and forecasted that inflation should continue to ease in May and June, in the range of 8%, and begin to drop in the second half of 2011.

Another option the Uruguayan government is prepared to implement is to increase the basic interest rate which now stands at 7.5%, and was previously raised 100 points in March.

However private analysts point out that it is crucial for the government to further reduce outlays, even when the effects take time, and argue that the current strong aggregate demand (private, public and external) is the real cause behind inflation besides pro-cyclical fiscal and expansive monetary policies since the third quarter of 2010 and beginning of 2011.

Another issue is labour contracts which have included "a strong inflation-indexing component" that has an impact on costs. In effect the Labour Ministry which has been endorsing labour contracts with automatic inflation adjustment clauses has been openly criticized by the Central bank, described as negative for the long term performance of the Uruguayan economy.