White House admits jobless rate is "unacceptably high" following May's 9.1%
Friday, June 3rd 2011 - 23:22 UTC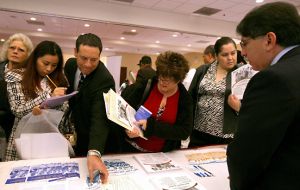 White House said on Friday the US unemployment rate was unacceptably high while trying to put a brave face on a report that showed employers hired far fewer workers than expected in May.

"There are always bumps on the road to recovery, but the overall trajectory of the economy has improved dramatically over the past two years," top White House economist Austan Goolsbee said in a statement.

"While the private sector has added more than 2.1 million jobs over the past 15 months, the unemployment rate is unacceptably high and faster growth is needed to replace the jobs lost in the downturn".

According to the Labour Department employment in May rose far less than expected and is the weakest reading in record since September with the jobless rate rising to 9.1% as high energy prices and the effects of Japan's earthquake bogged down the economy.

Non-farm payrolls increased 54,000 last month, the Labour Department said, with private employment rising 83,000, the least amount since June. Government payrolls dropped 29,000.

The Labour Department said severe weather last month, including tornadoes and flooding, in the Midwest and the South did not materially affect data collection.

It also said that while some workers in those regions may have been temporarily displaced from their jobs, it found "no clear impact of the disasters on the national employment and unemployment data for May".

In numbers this means there are 13.9 million Americans who are out of work and actively looking for a job. These are the people counted in the traditional unemployment number. On top of that, another 8.5 million people want a full time job but can only find part-time work. And there are an additional 2.2 million people want a job and have looked in the past year, but haven't looked in the past month.

These numbers combined make up what is sometimes known as the broader unemployment rate. The broader unemployment rate is now just under 16%.