Airlines suspend flights from Uruguay, fearing the volcanic ash cloud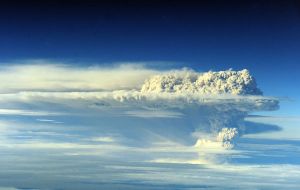 Flights from Uruguay's Carrasco international airport were suspended on Tuesday until further notice because of the proximity of Chile's Puyehue volcano ash cloud that on Monday forced similar decisions for Buenos Aires City main international and domestic air terminals.

The decision from airlines operating at Carrasco airport was taken following the forecast of the Meteorological Office and because the ash cloud, at 5.000 metres height presents a risk for aircraft.

"There are no activities in Carrasco airport because airlines have decided to cancel all operations until further notice", said Nelson Rosano, head of Operations at Uruguay's main international airport.

Carrasco has an average operation of 100 daily flights but on Tuesday, 95% have been cancelled and reprogrammed for further on.

Spain's Iberia was the first to announce that it was cancelling its flight to Montevideo, which was followed by other airlines.

Passengers from the Montevideo-Buenos Aires air bridge were offered a free option on the ferry that has several daily crossings of the River Plate between the capitals of Uruguay and Argentina.

Climate expert Mario Caffera said there was a big chance that the ashes from the Chilean Puyehue volcano that since last Saturday have been hovering over most of north Patagonia and the province of Buenos Aires could reach Uruguay.

"It would not be the first time", said Caffera, "it all depends on wind circulation" as well as the volume and concentration of the ashes spewed by the volcano.

The most recent experience for Uruguay was back in 2008 when ashes from the eruption of another Chilean volcano in the Andes, Chaitén, blanketed several Argentine provinces and begun dispersing over Uruguayan territory.