Peruvian president-elect promises full support for a 'strengthened' OAS
Wednesday, July 6th 2011 - 22:35 UTC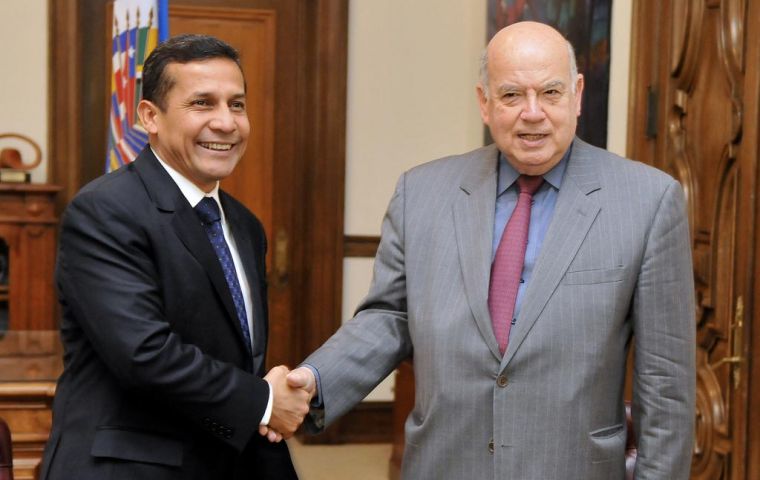 Peruvian president elect Olland Humala said on Wednesday he wants a "strengthened" Organization of American States, OAS, because Peru "fully supports the organization". Humala is currently visiting United States where he was also scheduled to meet with Secretary of State Hillary Clinton and President Barack Obama.

"We have talked of how to strengthen OAS as a body, an institution that brings together all countries of the Americas", said Humala following a one hour meeting with OAS Secretary General Jose Miguel Insulza.

"We are going to continue working in that line of full support for OAS "said Humala who added that among the several issues addressed with Insulza included "integration of the entire American region, the fight against drug trafficking, respect for the Democratic Charter, which is ten years old this year, and how to strengthen the OAS as an institution that brings together all of the American countries".

Secretary General Insulza revealed they had spoken "about the current situation in the hemisphere, the good relations between OAS and the government of Peru and possibilities for cooperation between nations of the continent".

Insulza thanked president elect Humala for his visit and highlighted the important role Peru plays in the multilateral forum of a "very diverse" continent, a region in which "all peoples must be represented in the hemispheric Organization so it may adequately fulfil its functions."

Finally Insulza said he had accepted Humala' invitation to attend the inauguration ceremony in Lima on July 28.