European Union clashes with rating agencies over the Euro debt crisis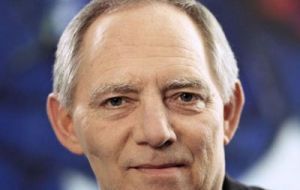 In what is seen as an escalation of events between European Union policy makers and credit rating agencies, Moody's said on Wednesday that nearly a third of EU banks undergoing public stress tests may need some outside support.

The European Banking Authority (EBA) is expected to announce the results of its stress test next week. Analysts expect more failures than the seven recorded last year as regulators seek to boost credibility in the exercise.

The announcement comes a day after the rating agency downgraded Portugal's credit standing to junk, when EU is struggling to extend Greece's debt and win support for fiscal plans for Spain, Ireland and Portugal that includes a 'voluntary' participation of banks and bondholders in the re-profiling efforts.

Moody's said the overall impact of the stress test on bank ratings will be limited. "Of the 91 EU banks subject to the EBA's 2011 stress test, Moody's believes that 26 rated banks have a heightened risk of needing extraordinary external support."

"Moody's expects the banks that fail the EBA stress test will be among those lower-rated banks, or among the non-rated banks included in the EBA stress test," it said.

The health check, aimed at restoring investor confidence in a sector hit by the Euro zone debt crisis, weaker returns for investors and regulatory uncertainties, should have positive effects for banks, Moody's said.

The test has already prompted several banks to bolster their capital cushions and will give investors details of each lender's exposure to sovereign debt and an insight into regulators' assessment of banks' capital positions.

"However, whilst the 2011 stress test is stricter than the 2010 European bank stress test, Moody's notes that the EBA's 2011 stress assumptions do not assume a sovereign default at a time when the risk of a sovereign default within the Euro area has increased," the agency said.

The EU has been trying to put together a second bailout for Greece, and Moody's on Tuesday became the first ratings agency to cut Portugal's credit standing to junk.

Moody's announcement on Tuesday and Wednesday triggered strong reactions from EU officials and escalated tensions between governments and the three leading rating agencies.

German Finance Minister Wolfgang Schaeuble said on Wednesday he was surprised by the decision to downgrade Portugal, saying he "can't decipher" the basis for the evaluation. "We need to break the oligopoly of rating agencies" he emphasized.

European policy makers need to keep Athens from being declared in default so Greek banks can continue to borrow from the European Central Bank. The EU is struggling to extend Greece's debt while rating agencies are assessing the efforts on behalf of private-sector lenders and bondholders who are being asked to participate in some of the refinancing efforts and admit a 'shaving' of their assets.

France is sponsoring a plan that would have private banks roll over 70% of Greek debt thus giving the EU breathing space. The initiative difficult to implement because of its consequences is supported by Berlin. French and German banks are significantly exposed in Greece.

However earlier in the week rating agency Standard and Poor's said that the French proposal, with German support, to involve private creditor banks in rolling over loans to Greek "risked putting Greece into a selective default".

European Union political leaders have talked in the past about creating a European debt-rating agency, but there is no concrete plan in place to do so.

Lawmakers have butted heads with the rating agencies throughout the debt crisis, but even earlier criticized the firms for helping spark the financial crisis in 2008 by failing to adequately assess the risks of complex financial instruments.

The credit-rating firms are now facing new regulations requiring registration as well as heightened standards to control conflicts of interest.