Nobel Prize Krugman criticized Obama for giving in on debt deal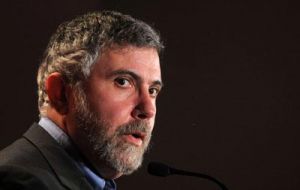 The Nobel Prize winner economist Paul Krugman harshly criticized President Barack Obama for giving in to pressure compromising on a debt ceiling deal that defenders say will save the country from default.

In his column "The President Surrenders" Krugman also called the pressure mounted by the Republican Party"blackmail" and said he would have taken a different path.

"I would have made a statement declaring that giving in to this kind of blackmail would constitute a violation of my oath of office, and that my lawyers, on careful reflection, have determined that there are several legal options that allow me to ignore this extortionate demand," Krugman wrote on his New York Times blog.

Krugman also expressed his disbelief in the Obama administration after the latest developments. "It's much, much too late for Obama and co. to say Trust us, we know what we're doing. My reservoir of trust is now completely drained. And I know I'm not alone", he lashed out.

The Nobel Prize winner also referred to the economics side of the deal which is based entirely on budget cuts. He argued that the US economy is deeply depressed and "will almost certainly continue to have a depressed economy all through next year. And we will probably have a depressed economy through 2013 as well, if not beyond".

"The worst thing you can do in these circumstances is slash government spending, since that will depress the economy even further" wrote Krugman saying that "those demanding spending cuts now are like medieval doctors who treated the sick by bleeding them, and thereby made them even sicker".

Krugman insisted that slashing spending while the US economy is depressed won't even help the budget situation much, and might well make it worse. "On one side, interest rates on federal borrowing are currently very low, so spending cuts now will do little to reduce future interest costs. On the other side, making the economy weaker now will also hurt its long-run prospects, which will in turn reduce future revenue".

Paul Krugman is the winner of a Nobel Prize for Economics in 2008, a New York Times columnist since 1999, professor of Economics and International Affairs at Princeton University, author and editor of over 20 books and more than 200 articles.

The economist is seen as a world reference in his field and an important contemporary scholar.