French students' killed in Argentina: claims of suspects beaten by police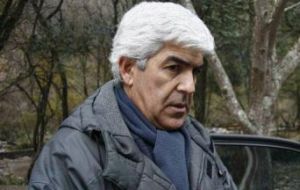 The family members of the French tourists who were murdered in Salta, north of Argentina were taken to the scene where the bodies were found to walk across the area, accompanied by the judge in charge of the case.

Judicial sources informed the press that the parents of Bouvier (29) and Moumni (23) got in touch with Judge Martín Pérez, with whom they walked through the scene where the women were found dead last Friday.

The relatives arrived in Salta to take back to France the remains of the deceased.

Simón Pistán, Salta police chief second in command in the investigation, assured that things were "progressing well" and that he is "convinced" that through this investigation they are sure to find, "not only the gun, but the perpetrators," of the crime.

On Wednesday new evidence was found, mainly clothes, which was believed to have belonged to the victims, which included a letter written in French. However there were contradictory reports from the court and the police as to where exactly they were found: in a camping tent in the woods or at the hostel.

Meantime a construction worker, 24, remains in custody while investigators try to determine a possible link with an attempt to sell a 22 calibre gun. Another suspect, with an alleged rape record and possession of a 22 calibre gun, who had been arrested for another case, proved to be a dead lead.

In France the magazine Paris Match revealed that another lead is under investigation since certain witnesses assure that they saw the two students at a VIP party, where foreigners can meet members of the "local high society".

Paris Match points out that so far the Salta police has concentrated its investigation among the "poor people" in the region where the bodies were discovered.

To further complicate the case, the Salta police have been accused of using 'illegal methods" during the questioning of two of the suspects. The first suspect caught said he was submitted to beatings to admit his responsibility in the double crime.

A similar claim was made by the brother of another suspect arrested and later released, because of lack of evidence, for allegedly having facilitated the 22 calibre crime weapon.