Rousseff announces massive investment in urban transport projects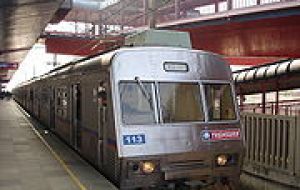 President Dilma Rousseff said Monday that her administration plans to invest 30 billion Reais (17 billion dollars) in urban transportation projects across Brazil.

The plan envisions expanding existing metro networks and building new ones, as well as establishing bus lanes, light rail systems and multimodal transport hubs, the president said on her weekly radio program.

She did not specify how much of the 30-billion-Reais figure corresponds to new projects and how much to programs already included in the budget.

Rousseff made separate trips last week to the south-eastern cities of Curitiba and Porto Alegre to announce plans to build the first metro lines in those metropolitan areas.

"To guarantee quality, fast, modern and safe public transportation at accessible prices means improving life for everyone," she said Monday.

"Projects like these wouldn't get off the drawing board without the participation of the federal government."

While the government already planned significant transport projects in the dozen Brazilian cities that will host matches during the 2014 soccer World Cup, the president said the latest initiative will involve many other municipalities.

President Rousseff made the announcements of public radio while travelling to South Africa for a meeting of the IBSA group (India, Brazil and South Africa), previous to an official visit to several African countries including the former Portuguese colonies of Mozambique and Angola.