Uruguay and EC committed to advance with the EU/Mercosur association accord
Friday, October 21st 2011 - 07:41 UTC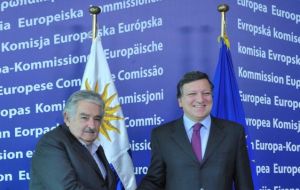 Uruguay and the European Commission agreed on the importance of promoting economic and investment relations and ratified their commitment to advance negotiations for a Mercosur/EU wide ranging trade and association agreement that is "integral, balanced and ambitious".

"Today we agreed that Uruguay and the EU consider of great importance to reinforce cooperation between the European Union and Mercosur. We are convinced that the association agreement will be crucial for such an objective", said EC president Jose Manuel Durao Barroso during a press conference next to visiting Uruguayan president Jose Mujica.

The two leaders met Thursday in Brussels on the last day of Mujica's European tour underlining the need to revitalize a project that was for years frozen and following its resumption in May 2010 again is stalled on obstacles.

However both Mujica and Barroso made it a point to underline that the current confidence and economic crisis in the Euro zone should not be an impediment to keep advancing on the long term project of creating the world's largest economic space.

"The crisis in Europe will be overcome and we are absolutely convinced as Mercosur that we must point towards what will follow", said the president of Uruguay that currently holds the rotating pro-tempore Mercosur chair. He insisted that a block rich in natural resources, as is Mercosur and its four full members, "needs of much investment and of much technology".

Barroso pointed out that in spite of the difficulties currently faced, the EU remains as the leading largest market in the world and is the top destination for Uruguay's exports after the Mercosur block.

Besides "EU is the main investor in Uruguay with over 20% of total direct investment in the country", continued Barroso.

"The solution to the current crisis is not protectionism. We will continue to discuss with Mercosur for the benefit of both sides and with respect for the more sensitive issues from both sides" promised the EC president.

Among those sensitive issues outstands the fear among European countries that an agreement with Mercosur could be particularly harmful for the farming industry and rural jobs, and has been a major drag for years in the advance of discussions.

"We have gone over this openly and we think that if there is an adequate reply to these sensitive problems, which are specific, it is possible to advance in the preparation of the association agreement", said Barroso.

He added, "I think that next year we can count with some important advances", although he preferred not to mention specific dates.

Mujica defended that Mercosur should reach agreements inside the block before presenting trade and products proposals to the EU and to show certain flexibility at the moment of yielding, "if we can't reach 50, let's try ten and keep working to advance".

Earlier in the week in talks with German Chancellor Angela Merkel, Mujica said that in spite of difficulties, for Mercosur an association agreement with the EU "is a strategic question".

Since talks between the two blocks resumed in May 2010, which had been stalled since 2004, negotiations for an association agreement have yet to reach internal consensuses so that each side can present on the table a set of viable proposals for a reciprocal lowering of tariffs.

The next round of discussions is scheduled for the 7 to 11 November week in Montevideo and there are not much expectations of a firm advance, but rather to continue advancing on two of the three main pillars of the project, political dialogue and cooperation, while on the third efforts will be centred on the set of rules and regulations for a framework of free trade.

Earlier this year Argentina which is involved in a re-industrialization policy to promote Argentine jobs and stimulate its domestic market, requested that talks be delayed until after next Sunday because of the presidential elections.

Similarly French President Sarkozy who is struggling for his re-election next April, is not anxious to be seen yielding to Mercosur in the highly sensitive agriculture sector with its strong showing of votes in some regions.

The meeting with EC president Barroso was Mujica's last of a long list of interviews with EU institutions representatives, and which also marked the end of the Uruguayan president week long tour of Europe. Mujica visited Sweden, Norway, Germany and Belgium plus the EC officials in Brussels, with the main purpose of attracting investments.

Before leaving Brussels, Mujica was praised by Barroso for his "significant personal contribution" in the economic and political development of Uruguay.