Lloyds reports £ 3.9bn loss in nine months; blames cost of settling PPI claims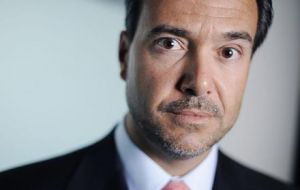 Lloyds Banking Group has reported a £3.9bn (6.3bn) loss for the first nine months of 2011, mainly due to the cost of settling claims for mis-selling payment protection insurance (PPI).

The pre-tax loss for the period ending 30 September compares with a profit of £ 2bn a year earlier. Lloyds said that during the nine months it spent £3.2bn covering PPI claims.

Its total income for the period also fell 15% to £15.3bn, indicating a decline in business levels.

Lloyds said its latest results came against a backdrop of a weakening UK economic environment. It added that the cost of settling PPI claims was completed in the first half of the year.

The bank's results come six days after it announced that chief executive Antonio Horta-Osorio is to take medical leave.

Lloyds expects Mr Horta-Osorio, who only took up the job in March, to return to his position before the end of the year.

Tim Tookey, who has taken up the chief executive role on an interim basis, said it was "very much business as usual" while Mr Horta was away.

He added: "There's nothing that's being stopped or paused while we go through these few weeks before we expect Antonio to return."

Mr Tookey, who is due to leave Lloyds in February after handing in his resignation over the summer, said that Lloyds was continuing to strengthen its balance sheet and reduce costs.

The government currently still holds a 41% stake in Lloyds.

In the three months to 30 September, Lloyds reduced its exposure to Italian banks by one third to £1.2bn. It has also cut its investments in banks in Spain, Portugal and the Republic of Ireland.