Norwegian expedition unable to re-edit Amundsen's South Pole 1911 feat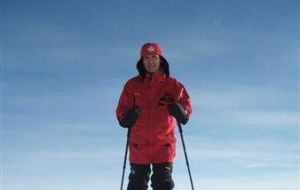 The Norwegian expedition which was planning to celebrate the centenary of the South Pole discovery by Ronald Amundsen failed in their last leg of their mission with two of them abandoning and the other two not reaching on time for Wednesday's party with Prime Minister Jens Stoltenberg.

According to the Norwegian broadcasting station NKR, two of the participants decided to give up the attempt to ski to the South Pole and asked for a plane to pick them up and fly them the last 80 kilometres.

The other two including three-time Olympic champion Vegard Ulvang decided to continue, although aware they won't make it on time for the celebration with PM Stolenberg who was planning to ski the last twenty kilometres with the expedition that is trying to re-edit Admundsen' feat in 1911.

Roald Amundsen and his team were the first to reach the South Pole on 14 December 1911, thus winning the Antarctica race to British explorer Robert Falcon Scott, who arrived a month later and died on the trip back together with four of his expedition members.

Norway's PM Stoltenberg on Monday skied in South Pole as he prepared for the Wednesday celebration. Wearing a red "expedition parka" and the Norwegian Polar Institute's red hat, more or less what he would wear back in Oslo at this time of the year, Stoltenberg donned skis then quickly tweeted: "Skiing at the South Pole: beautiful and wild nature".

Ulvang, a six-time cross country skiing Olympic medallist, including three gold-medals from Albertville in 1992, did not have it quite as easy, since he won't be accomplishing their objective.

"Our strategy now is to cut down on sleep and rest and stake everything on skiing 35-40 km each of the next two days" the expedition said in its online diary. "Then we will ski non-stop from [tonight] until [Wednesday afternoon]".

But unlike Amundsen, Ulvang and team mates Jan-Gunnar Winther, Stein P. Aasheim and Harald Dag Joelle had to rely on their skis as sled dogs have been banned in Antarctica since 1994.

"Even if the terrain we cross is known, and our equipment is state-of-the-art, it is still a long, cold, windy journey," the expedition has anticipated.