Tuesday,
December
13th
2011
- 06:56 UTC
Uruguay monetary policy trapped between inflation or stimulating the economy
The Uruguayan central bank "Monetary Policy Committee" will attempt to balance 'concern' over inflation with the increasing international uncertainty when it meets next 29 December, said the bank's president Mario Bergara.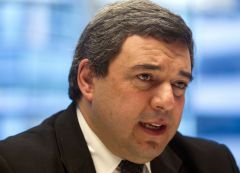 After deciding to hold the Basic rate at 8% in its last meeting of September, local analysts believe the bank could reduce the rate in December to compensate the mitigation of the economy during the second quarter in an international adverse context.
But since inflation climbed to 8.4% in the last twelve months to November, the prevailing opinion is that the MPC will maintain the reference rate at 8%.
"The central bank will take the necessary measures to make the stability policy credible but we are in a volatile and uncertain world, with increased turbulences and therefore we must balance inflationary pressures with those linked to production and competition because we need a balanced approach to economic policy", added Bergara.
"We will take the necessary measures to keep a balance between the objectives of price stability and growth".
Bergara added that a clearer idea on future rates will emerge this week when the evolution of the Uruguayan economy in the third quarter is known.
Nevertheless "inflation is a variable which concerns because we are two full percentage points above target". The bank's inflation target for this year ranges from 4% to 6%.
In November inflation was 0.42%, the highest for the month since 2002 and 8.4% in the last twelve months, compared to 7.88% in the last twelve months to October. In the first eleven months of 2011 inflation reached 7.84%.
Items with the greatest influence were: clothing and footwear 1.47%; Housing and rent, 0.59% and restaurants and hotels, 0.58%.
Consumer prices for low income households in Montevideo during November increased 0.6%, totalling 7.25% so far this year and 7.61% in the last twelve months. The stats belong to the Statistics Department from the Montevideo School of Economics. The basic basket for a low income household in Montevideo was estimated in 28.300 Pesos equivalent to 1.450 US dollars.