Latam "progressive" countries openly supported tyrants despised by "Arab Spring"
Wednesday, December 14th 2011 - 04:14 UTC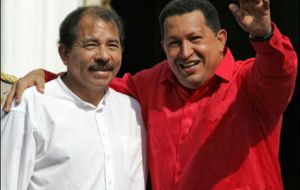 The so called 'progressive' Latin American governments not only did they not support the revolution wave later known as the "Arab Spring" but openly and repeatedly backed the regimes against which the peoples of those countries rebelled.

Venezuela and Nicaragua were the most explicit in defending first Libya's Muammar Gaddafi and later Syrian president Bachar el Asad together with Cuba, Ecuador and Bolivia in a similar position maybe less intense, while Brazil kept a clear more moderate profile.

Last February Nicaraguan President Daniel Ortega called Gaddafi on the phone to express "the solidarity from the people of Nicaragua to all the people of Libya" and to him personally "the solidarity from the Sandinista Nicaraguans" wishing that "may God want the situation to be solved and over the soonest possible".

"He is again fighting a great battle, how many battles has Gaddafi had to face? Said Ortega who said the Libyan leader was looking for a 'dialogue solution' so as to defend the unity of the nation and the country does not disintegrate, and the country does not fall into anarchy".

Ten months later in the Community of Latin American and Caribbean States, CELAC, summit in Caracas, Venezuela, Ortega condemned the "brutal attacks" from the empires that are tyrants of the planet", which ganged together and went after Libya, the north of Africa, with all their might, simply trying to destroy a project of African unity".

Fidel Castro last February said that "any honest person will always be against any form of injustice that is committed with any people of the world, and the worst of all at this moment, would be to keep silent before the horrendous crime that NATO is preparing to commit against the Libyan people".