Campden Hill Square, UK's most desirable road with average house price £ 4.9m
Tuesday, January 10th 2012 - 06:00 UTC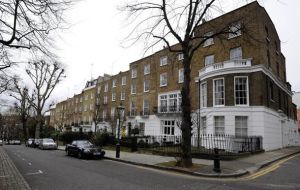 Campden Hill Square in Holland Park, West London, has become Britain's most desirable road with an average house price of £4.9m. The square near Kensington Palace has topped a survey of house prices across the country by Lloyds TSB.

Previous occupants have included Prince Edward and the Duchess of Kent, playwright Harold Pinter and Lady Antonia Fraser, and Sir Paul Brierley Smith, the fashion designer.


Lady Sarah Riddell, the widow of Sir John Riddell, the 13th Baronet of Riddell, and Lord Mark Fitzalan Howard OBE have also lived on the Kensington and Chelsea street.

The tree-lined square is the most expensive of six streets within the London borough, which dominates the top 10.


Nearby Drayton Gardens was the third most expensive street, with an average house price of £4.4 million, followed by Dawson Place in nearby W2 where houses cost an average of £3.89 million.


The second most expensive street was Parkside in Merton, where average prices were £4.8 million.


"The largest concentration of expensive properties is in Kensington and Chelsea," said Lloyds TSB economist Suren Thiru.


"This part of London has always had a glamorous reputation, attracting buyers from the business and entertainment world, and more recently the super-rich from across the world.


"The area clearly has its attractions with excellent schools, up-market shops, proximity to the capital's business district and impressive properties.


"Other areas in the capital have similar qualities but property prices in Kensington and Chelsea tend to outperform the rest of London."


The priciest streets away from the capital were in the Home Counties, the study found. Properties in Leys Road in Leatherhead, Surrey, had an average price of £3.1 million – the highest outside London.


Brundenell Avenue in the glamorous celebrity favorite of Sandbanks in Dorset had an average house price of £2 million and was the most expensive street outside London and the South East.


"Outside London, the areas with the most expensive streets are generally located well away from central areas, where buyers are typically attracted by larger properties and more green space," Mr Thiru added.


Outside southern England, the most expensive street was Withinlee Road in Prestbury, near Macclesfield, Cheshire – where the average house price was £1,649,000.


Withinlee Road, highlighted by the study for being favored by footballers, was followed by Macclesfield Road in Alderley Edge, where houses typically cost £1.3 million.


The most expensive streets in Yorkshire and the Humber were all located in the area that makes up the "golden triangle" between Harrogate, Wetherby and north Leeds.


The region's most expensive street was Bracken Park in Scarcroft in Leeds with an average price of £934,000, followed by Wigton Lane in Leeds (£840,000) and Orchard Close in York (£800,000).


The most expensive street in Wales was Druidstone Road on the outskirts of Cardiff with an average house price tag of £685,000.