Timerman and Randazzo lash back at Cameron over Falklands' dispute
Wednesday, January 18th 2012 - 23:35 UTC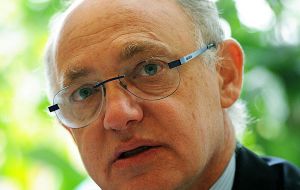 Argentine Foreign Minister Héctor Timerman echoed the statements made by UK's Prime Minister David Cameron in which he accused Argentina of "colonialism," and counter attacked by saying that "it catches one's attention to hear such statements when Great Britain and Colonialism are synonymous."

The cross fire did not end there, as Timerman also remarked that "instead of calling the National Security Committee, Great Britain should call UN's Secretary General Ban Ki Moon and respond positively to all resolutions issued by the UN calling Britain to open the dialogue with Argentina in order to find a pacific solution to Argentina's claims of sovereignty over the Malvinas Islands."

Likewise, the minister said that "The accusations made are hard to understand when it is Argentina the victim of British colonialism as the United Nations has said."

Furthermore, Timerman remarked that "we live in a world where only colonialism leftovers can be found, but it seems that as far as the British Empire is in full decline, they have now decided to re-write history."

Interior Minister Florencio Randazzo also weighted in on the issue and said he considered Cameron's statements to be "absolutely offensive."

"This is absolutely offensive, particularly coming from Great Britain. History clearly shows what their attitude towards the world was," he said in a press conference.

Earlier, British Prime Minister David Cameron once again reiterated his country's full support for Falklands self determination and accused Argentina of "colonialism".

The prime minister explained that the future of the islands was ''down to the people''.

"The key point is we support the (Malvinas) Islanders' right to self-determination, and what the Argentineans have been saying recently, I would argue is actually far more like colonialism because these people want to remain British and the Argentineans want them to do something else," the Prime Minister explained.