Friday,
January
20th
2012
- 08:01 UTC
Bill for the BP oil spill in the Gulf of Mexico could reach 20/25 billion dollars
British Petroleum is likely to agree to pay the US Department of Justice 20 to 25 billion dollars to settle all charges around the Gulf of Mexico oil spill, according to a leading analyst, a prediction that is at least twice what the company has set aside.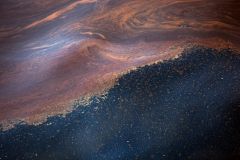 Martijn Rats, head of European oil research at Morgan Stanley, said he saw a 70-80% chance that the two sides would agree a deal on civil and criminal charges surrounding the 2010 disaster sometime between BP's full year results on February 7, and the scheduled start of legal hearings in New Orleans on February 27.
BP sources have said that talks are ongoing with the Department of Justice about a possible settlement and that the London-based company's board has shifted to weekly meetings to discuss progress.
Chief Executive Bob Dudley has said BP would like to settle, although not at any price. When asked about the matter by reporters on Wednesday, he declined to make any comment, saying it was a sensitive time to be discussing it.
BP senses the US administration would like to settle the matter, not least because it is a US presidential election year, the sources said but any outcome is still seen as uncertain.
The estimated level of settlement in the Morgan Stanley note is much higher than other analysts have predicted, and around double the amount BP has taken a provision for.
Senior company sources last year told news agencies that the company was prepared for a massive payout. One source predicted BP would offer "the mother of all settlements".
Another said the settlement would likely be the second-largest in US legal history, putting it between the 206 billion dollars the tobacco industry agreed to pay US states for treating smoking-related illnesses and the 7.2 billion dollars banks agreed to pay to settle litigation related to Enron's collapse.